There is no denying that silicon carbide (SiC) MOSFETs are the story of the next decade for electric vehicle power electronics. The material improves powertrain efficiency (EV range), operates at higher voltages for faster charging, and creates new materials opportunities, such as Ag or Cu sintering, as power densities and operational temperatures increase.
Infineon and ST Microelectronics are consistent market leaders in the supply of automotive power semiconductors, with both expanding major OEM partnerships recently. Infineon has a deal to supply Stellantis' Tier 1 partners from 2025, potentially worth over 1 billion euros. Infineon also has a ten-year supply deal with VW, supplies into Hyundai's 800V E-GMP platform, and has a historic relationship with BMW for the original i3, as well as Renault.
Meanwhile, STMicroelectronics ('STMicro') has a major supply relationship with EV maker no. 1 – Tesla – a company which had ~14% market share of all BEV+PHEV cars sold globally in 2022 according to IDTechEx. Recently, STMicro has developed new SiC modules branded ACEPACK, a drop-in module solution akin to other mainstream designs, which will help expand its customer base. The company is expanding production capacity in Italy in anticipation of demand, and Hyundai has already chosen to use the modules in upcoming E-GMP models.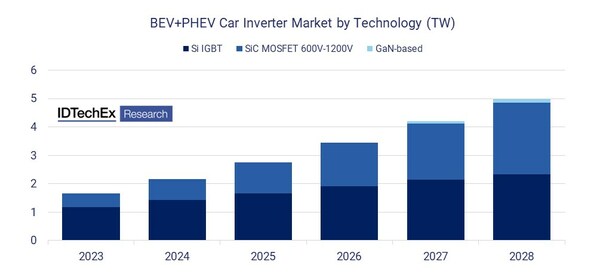 Other players' announcements are also gathering momentum, reflecting the pace of SiC adoption. Onsemi has released a SiC MOSFET brand called EliteSiC and will supply VW and Hyundai, and Tier 1 Borgwarner announced it would invest US$500 million in Wolfspeed, with Wolfspeed supplying SiC semiconductors to future Mercedes-Benz models and JLR's next generation of electric cars from 2024.
Going against the grain, on its last investor day, Tesla announced it was aiming for a 75% reduction in SiC utilization for the cyber truck and future model releases. What does this mean for suppliers? While the announcement is a little unclear in isolation, IDTechEx expects all Tesla's vehicles will continue to use SiC MOSFETs in most of their power electronics.
It is worth remembering that SiC MOSFETs were only introduced to the automotive sector at scale with Tesla's release of the original Model 3 in 2018. The inverter design currently in use across Tesla's line-up is similar to this original inverter. IDTechEx expects that the announced reduction is being driven by smaller and more advanced SiC chips reaching commercialization alongside the five years of real-world experience and understanding of SiC chip thermal management. It is also likely that Tesla's initial SiC inverter design was optimized for redundancy – extra chips – with the design now being optimized for cost and efficiency.
Overall, Tesla's announcement will not negatively impact IDTechEx's forecasts for SiC inverter adoption/vehicle over the next decade. IDTechEx predicts a 27% CAGR for the period 2023 – 2033 for 600V – 1200V SiC MOSFETs in inverters, allowing the technology to capture more than half the market.