US electric vehicle company Tesla has begun hiring data security experts in China to address the increasing compliance pressure it faces.
According to job ads posted by Tesla on May 26, the recruitment is for a total of four data-related positions, including a data security specialist position that will be responsible for building Tesla's data security system and operating the data security system.
Interestingly, the Chinese title of the job is "Data Security Specialist, Data Management", but the job description gives the English name "Data Operation Expert" for the title.
The position requires technical research on data security and personal information protection in various data scenarios, and is responsible for coordinating resources across departments to identify and locate data business security risks.
The person will be responsible for security emergency response and participate in industry compliance assessment and certification of related businesses.
The person will also participate in information system security risk analysis to ensure that information system data storage, processing and transmission comply with security management standards.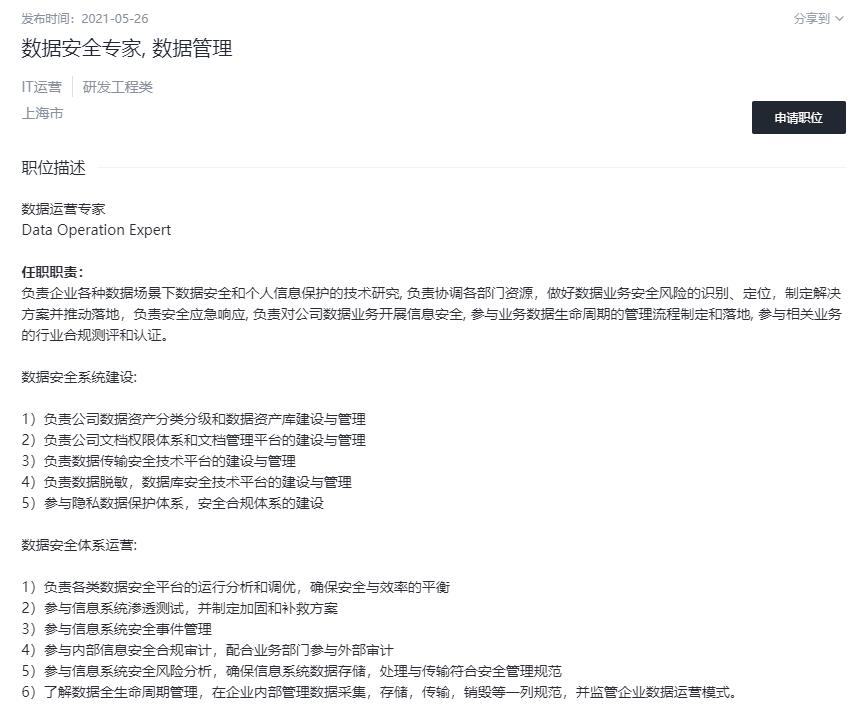 The day before the job ads were published, Tesla announced that it has established a data center in China to localize data storage, with more local data centers to be added in the future.
All data generated by vehicles sold in mainland China will be stored within the country, the company said.
Tesla will open its vehicle information search platform to owners, which is in full swing, with details and progress to be announced in the future, the company said.
Thus, it seems that the above data-related positions are expected to serve the newly established data center.
Tesla is currently under significant pressure to comply with data security in China. On April 7, China's Ministry of Industry and Information Technology began soliciting public comments on a smart car management regulation that mentions that smart connected car manufacturers should collect, use and protect personal information in accordance with the law.
Personal information and important data collected and generated during operations in China should be stored within the country in accordance with relevant regulations. If it is necessary to provide it outside of China for business needs, it should be reported to the regulator, the document said.
The Wall Street Journal in March quoted sources as saying that the Chinese government had begun to restrict the use of Tesla by military personnel and employees of key state-owned enterprises because of concerns about cameras collecting sensitive data.
In response, Tesla CEO Elon Musk said Tesla would never provide the US government with any vehicle or user data it collects in China or other countries.
---
This article was first published by Phate Zhang on CnEVPost, a website focusing on new energy vehicle news from China.