Vishal Mehrotra, Bond University and Rajat Roy, Bond University
In what has been called the most important legal case in the history of the Australian automotive industry, the Federal Court has rejected a $650 million compensation claim against Mercedes-Benz for replacing its traditional dealership model with a fixed-price, direct-to-customer agency model.
It's a decision that could transform the way roughly a million Australians buy a new car each year – an experience that has been consistent for decades, with shopping around for value and haggling over the price part of the ritual.
Cracks began to appear in this sales model in 2014 with the arrival in Australia of electric car maker Tesla, which sells directly to customers at set prices and has only a handful of bricks-and-mortar shopfronts. Honda followed suit in 2021, switching to fixed prices at its dealerships.
But after Mercedes-Benz shifted to fixed-price sales in January 2022, 38 of its 49 Australian dealerships banded together to seek compensation for changes they argued decimated the value of their businesses.
The parties spent seven weeks in court in 2022. Federal Court judge Jonathan Beach had been expected to deliver his decision at the beginning of the year. It was finally handed down yesterday, after a nine-month delay that highlights the significance of the case.
Justice Beach's verdict, which runs to 567 pages, is decisive. It dismisses all the dealers' claims against Mercedes-Benz, describing the case as "forensically complex although legally straightforward".
Why dealers took Mercedes-Benz to court
Dealerships are independent businesses. As official franchisees, Mercedes-Benz would sell them vehicles at wholesale prices. They would the resell the vehicles at a price negotiated with customers. This allowed them to set their own profit margins.
The basis for the dealers' compensation claim was that Mercedes-Benz allegedly bullied them into signing "agency agreements" that upended this model.
The new agreements meant Mercedes-Benz took control of the sales process. It retained ownership of the vehicles and set the sales prices, paying dealers a fixed commission on sales. A buyer could buy a car online. Their only contact with a dealership might be to pick up their new vehicle.
The dealers argued this had stripped them of valuable "customer goodwill".
Goodwill is an intangible asset that represents the value of a business over its book value (based on assets and liabilities). This value can come from brand, reputation, customer and employee relations, intellectual property, or a loyal customer base.
With dealer showroom traffic already declining, dealers contended that reducing their interaction with customers would dramatically affect their profitability.
Mercedes-Benz's lawyers argued the manufacturer was entitled to make this change, which was not a breach of Australia's franchise code, and that it acted in good faith, needing to respond to rivals changing their own sales models.
Claims dismissed
While Justice Beach said the dealers' case was "successful on many issues of fact", it failed on fundamental issues of law. He dismissed all claims against Mercedes-Benz.
His judgement upholds Mercedes-Benz's right to cancel its existing franchisee contracts and replace them with agency agreements. He rejected the claim that dealers were forced to sign the new agreements under economic duress.
Just because a dealer was financially worse off under the agency model compared with the dealer model, he said, that did not mean Mercedes-Benz had acted unconscionably or failed to act in good faith.
He also rejected the goodwill claim, because there is no "right at law for a franchisee to be compensated for goodwill on non-renewal of a franchise agreement".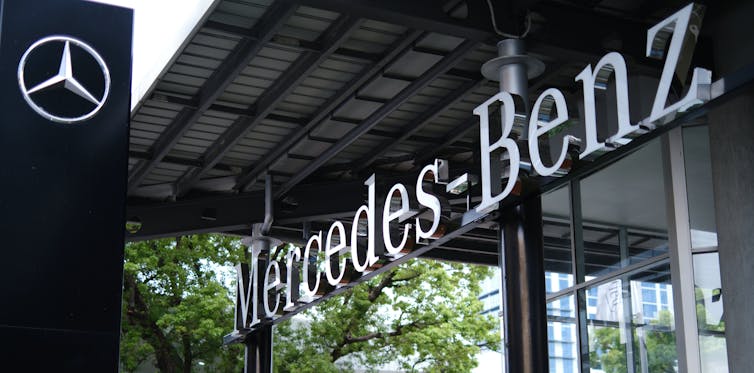 This judgement has potentially far-reaching consequences for all franchise agreements. It seems to expand the boundaries around what franchisers can and cannot do under their agreements, and what "goodwill" means at the end of such agreements.
In a telling statement, Justice Beach suggested the case brought by the dealerships "although unsuccessful, concerns statutory unconscionable conduct". He unambiguously stated that "further consideration needs to be given to the terms of the franchising code and possible modification". This may have important implications for the federal government, which this month embarked on an independent review of the Australian Franchising Code of Conduct with a view to evaluating its current fitness for purpose.
What does this mean for customers?
While many buyers will welcome fixed prices, evidence of their widespread adoption and appeal remains mixed. Fixed-price sales do not appear to blunt Tesla's momentum, with the Tesla Model Y zooming up the charts to become Australia's third-best-selling car.
Honda, however, in March 2023 reported a 72% decline, recording its lowest new car sales in its history in Australia.
What's more, some industry experts say squeezing dealerships out of the sales process could lead to higher prices, given the elimination of price competition between rival dealerships.
Our case study of Mercedes-Benz's new sales strategy points to the fact that while Australians are growing more comfortable with buying big-ticket items without face-to-face interactions, it is too early to provide a verdict on whether the move to an agency model is good or bad overall for car buyers.
The court verdict makes one thing clear. All parties need to reset and refine their roles and responsibilities in a rapidly evolving consumer landscape. While we know that for the forseeable future there will always be plenty of people lining up to buy new cars, the judgement raises the question of whether their days of buying them from standalone dealerships are numbered.
Vishal Mehrotra, Assistant Professor, Bond University and Rajat Roy, Associate Professor, Bond Business School, Bond University
This article is republished from The Conversation under a Creative Commons license. Read the original article.