In TrendForce's report on the self-driving System-on-Chip (SoC) market, it has witnessed rapid growth, which is anticipated to soar to $28 billion by 2026, boasting a Compound Annual Growth Rate (CAGR) from 2022 to 2026.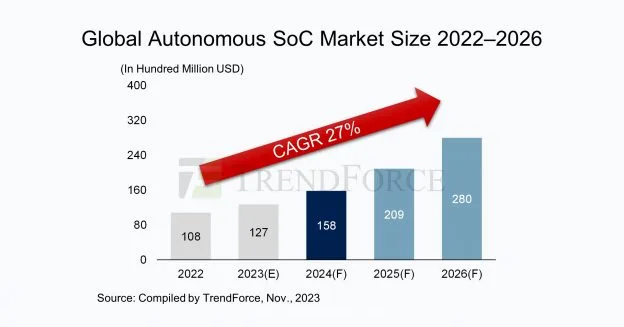 Rapid Growth in the Self-Driving SoC Market Becomes a Key Global Opportunity for IC Design Companies
In 2022, the global market for self-driving SoC is approximately $10.8 billion, and it is projected to grow to $12.7 billion in 2023, representing an 18% YoY increase. Fueled by the rising penetration of autonomous driving, the market is expected to reach $28 billion in 2026, with a CAGR of approximately 27% from 2022 to 2026.
Given the slowing growth momentum in the consumer electronics market, self-driving SoC has emerged as a crucial global opportunity for IC design companies.
Computing Power Reigns Supreme, with NVIDIA and Qualcomm Leading the Pack
Due to factors such as regulations, technology, costs, and network speed, most automakers currently operate at Level 2 autonomy. In practical terms, computing power exceeding 100 TOPS (INT8) is sufficient. However, as vehicles typically have a lifespan of over 15 years, future upgrades in autonomy levels will rely on Over-The-Air (OTA) updates, necessitating reserved computing power.
Based on the current choices made by automakers, computing power emerges as a primary consideration. Consequently, NVIDIA and Qualcomm are poised to hold a competitive edge. In contrast, Mobileye's EyeQ Ultra, set to enter mass production in 2025, offers only 176 TOPS, making it susceptible to significant competitive pressure.
Software-Hardware Integration, Decoupling, and Openness as Key Competitors
Seamless integration of software and hardware can maximize the computational power of SoCs. Considering the imperative for automakers to reduce costs and enhance efficiency, the degree of integration becomes a pivotal factor in a company's competitiveness. However, not only does integration matter, but the ability to decouple software and hardware proves even more critical.
Through a high degree of decoupling, automakers can continually update SoC functionality via Over-The-Air (OTA) updates. The openness of the software ecosystem assists automakers in establishing differentiation, serving as a competitive imperative that IC design firms cannot overlook.