1. Wide adoption of NOA begins, and local brands grab market share.
According to ResearchInChina, from January to August 2023, joint venture brands accounted for 3.0% of installations of L2.5 and higher-level systems, mainly driven by Tesla; the proportion of independent brands was 3.7%, up 1.8 percentage points from 1.9% in 2022. From January to August 2023, independent brands took up 1.9% of installations of L2.9 systems, up 1 percentage point from that in 2022. Urban NOA is mainly available to Li Auto, NIO, Avatr, AITO and Xpeng.
As per the models and plans released by automakers, independent brands are working to deploy NOA, and they are beginning to reduce the price and improve the configuration, which means they intend to occupy the market ahead of others, by virtue of "cost performance".
For example, the new AITO M7, launched in September 2023, is priced at RMB249,800-329,800 (the price of the old model is RMB319,800-379,800). The new M7, equipped with 27 sensors including a roof LiDAR, 3 radars, 11 high-definition cameras and 12 ultrasonic radars, supports Huawei ADS 2.0 and enables high-level intelligent driving on highways and in urban areas without HD maps. Up to now, AITO has realized the commercialization of NOA in six cities without using maps, which is expected to available to up to 45 cities in the fourth quarter.
In October 2023, IM LS6 (including four editions) was launched on market. Equipped with the IM AD intelligent driving system, it is priced at RMB229,900-291,900 (limited-time offer: RMB214,900-276,900). The IM AD system valued at RMB36,800 (NVIDIA OrinX, a LiDAR, 3 radars, 11 cameras and 12 ultrasonic radars) features highway NOA and urban NOA (some functions are realized via OTA updates).
According to IM's plan, the urban NOA on IM LS6 will be tested on public roads at the end of 2023, or will be launched before the 2024 Spring Festival, first available in Shanghai. In mid-2024, "non-map" urban NOA may be implemented; within 2024, the commuting mode will cover 100 key cities across China.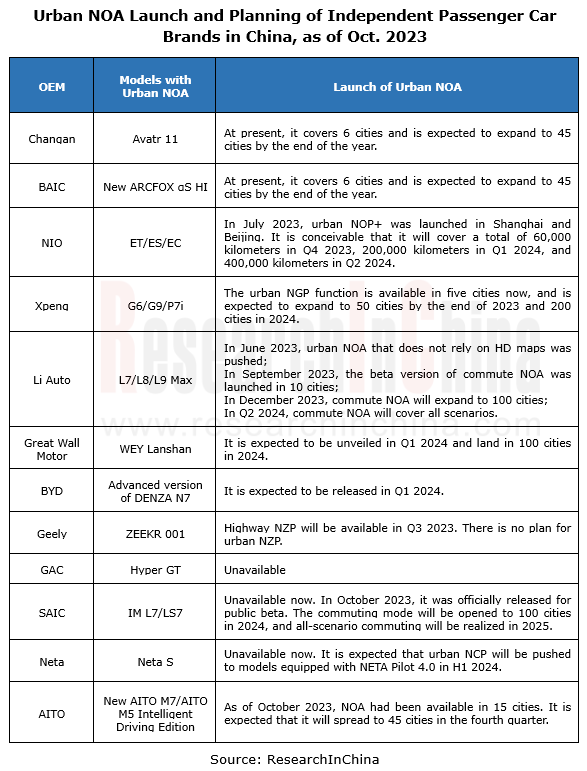 2. In view of the difficulty of all-scenario urban NOA, many OEMs start with commute NOA.
Commute NOA, also known as urban memory driving, tailors the "urban driving assistance" route according to users' mobility habits. Compared with urban NOA, commute NOA can be trained on a single vehicle. It can achieve the vision of 99% autonomous driving on fixed routes based on the user's driving routes and memorized trajectories. Li Auto revealed that simple routes can be trained in one week, and complicated routes take 2-3 weeks.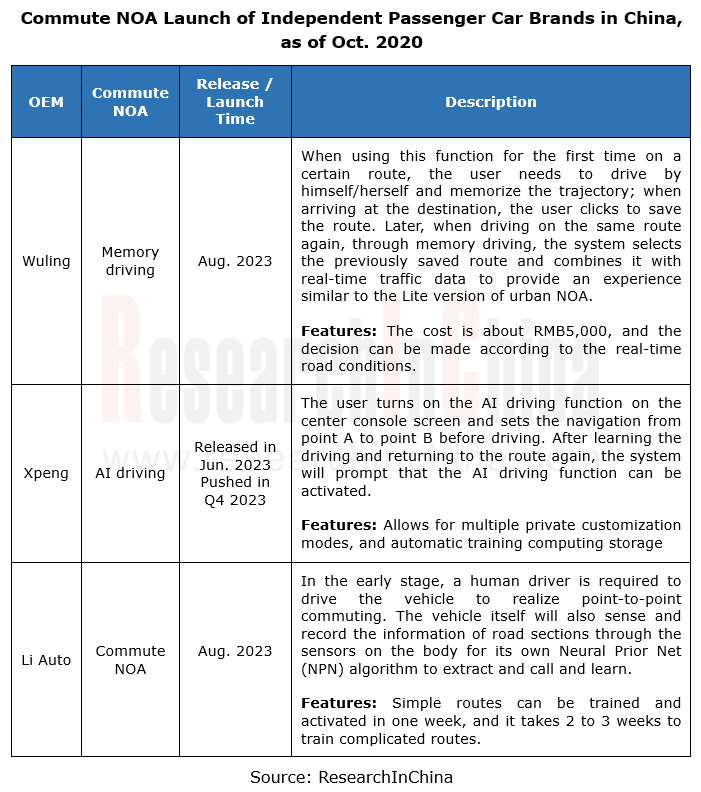 3. Independent conventional OEMs compete for talents to enhance the technical capabilities of their intelligent driving teams.
In the process of upgrading from L2 to L3 intelligent driving, the technical capabilities of the original intelligent driving teams of independent conventional OEMs can't keep up with the development trend of industrial technologies. Therefore they have poached technical experts from bellwethers, technology companies, and emerging carmakers to improve the technology level of their intelligent driving teams.
For example, in August 2023, BYD invited Liao Jie, the former Intelligent Driving R&D Director of Horizon Robotics, to serve as the head of BYD's intelligent driving team in Shanghai. In September 2023, Tao Ji, the former CEO of Autra.tech, a L4 truck company, joined Changan Automobile to take in charge of intelligent driving technology. Tao Ji used to work with Baidu as the general manager of the autonomous driving division of Intelligent Driving Group (IDG) and the general manager of intelligent transportation product research and development. He participated in the entire founding process of Baidu's autonomous driving project team from 0 to 1.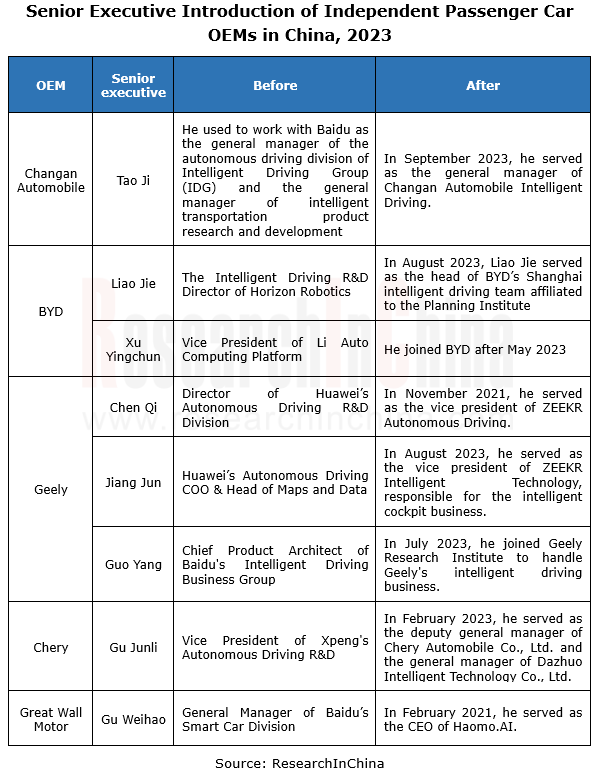 4. The upstream and downstream of the industry chain jointly promote solutions with optimal performance and cost.
HD maps have low city coverage, high collection cost and unstable update frequency, which are insoluble problems for the industry, so major OEMs have reached an industry consensus on "low-weight map" solutions.
In August 2023, IM Motors and Momenta released a solution based on Data Driven Landmark Detection (DDLD) technology without using HD maps. The DDLD model can replace HD maps, construct maps in real time during driving, integrate the road features recognized in multiple mappings to generate road topology, and predict road network information that is difficult to observe with conventional perception algorithms. The solution was first mounted on IM LS6, and used for NOA public beta in September 2023 without HD maps.
In addition, Tier 1 suppliers are actively introducing new solutions to reduce the cost of sensor solutions.
In April 2023, DJI released a thousand-yuan intelligent driving solution which uses 7V/9V vision-only configuration to achieve L2+ intelligent driving functions, including urban memory driving (32TOPS)/urban NOA (80TOPS) through "strong visual online real-time perception", without relying on HD maps or LiDAR". In September 2023. The 7V solution was launched on market with the Linxi Edition of Baojun Yunduo 460 Pro priced at RMB125,800. Thus high-level intelligent driving functions are popularized to mainstream RMB100,000 family cars. After several years of low-profile development, DJI's designated projects surged in 2023. It is estimated that more than 20 cars models will carry intelligent driving products from DJI by the end of 2024.
In October 2023, Haomo.AI released three "cost-effective" driving-parking integrated products – HP170 (5TOPS), HP370 (32TOPS) and HP570 (72TOPS or 100TOPS), which enable non-map highway NOH, city memory driving, and all-scenario non-map urban NOH, with the price of RMB3,000, RMB5,000 and RMB8,000 respectively.
In general, the "involution" in the NOA market has stimulated OEMs to quickly implement high-level driving assistance for greater competitive edges. However, the high-level intelligent driving technology is highly complex. In a short window period, OEMs with insufficient self-development capabilities will prefer large Tier 1 suppliers like Huawei and DJI, which have enough mass production experience, and advanced and mature technologies.