BYD's Ocean Series five-seat hybrid SUV "Frigate" model was launched on December 9. The new car comes in six options with five colors, and the price is 202,800 – 289,800 yuan ($29,077 – $41,551) after reducing subsidies.
The BYD Frigate 07 is built based on the concept of an ocean-themed aesthetic design. It is equipped with polygonal grille with matrix LED headlights and a luminous BYD logo. It has D-pillar energy indicator lights as standard configuration, among which the 205km and 175km models are equipped with full-width front middle position lights and front grille daytime running lights.
On this basis, a rich combination of lights is supported.The D-pillar energy indicator light can work with taillights when the vehicle is opened and locked to create a gorgeous effect. At the same time, when the vehicle is charged, the fast and slow charging can be distinguished by the fast and slow rhythm of lighting, and the remaining power of the vehicle can be displayed.
The BYD Frigate 07 is equipped with mobile phone NFC car keys. In addition to supporting Android devices, the vehicle will support both iPhones and Apple Watches. Users don't need to carry car keys. Instead, they only need to touch the sensor area with their mobile phones or watches to unlock and lock the car.
Inside, the BYD Frigate 07 adopts a gray color scheme, creating a driving space with unique ocean elements, detailed modeling and meticulous material color. With this vehicle model, the firm has discontinued the third row of seats and adopted a larger five-seat layout. Together with a 2,820 mm wheelbase and 1,920 mm body width, it aims to maximize the cockpit and trunk space.
The new model comes standard with a 15.6-inch adaptive rotary suspension control screen, a built-in new DiLink intelligent network connection system and 5G, greatly improving data transmission speed, reducing the wait for audio and video, and generally improving the user experience. The BYD Frigate 07 also adopts a newly upgraded full-scenario intelligent voice function, adding continuous dialogue and four-tone wake-up features.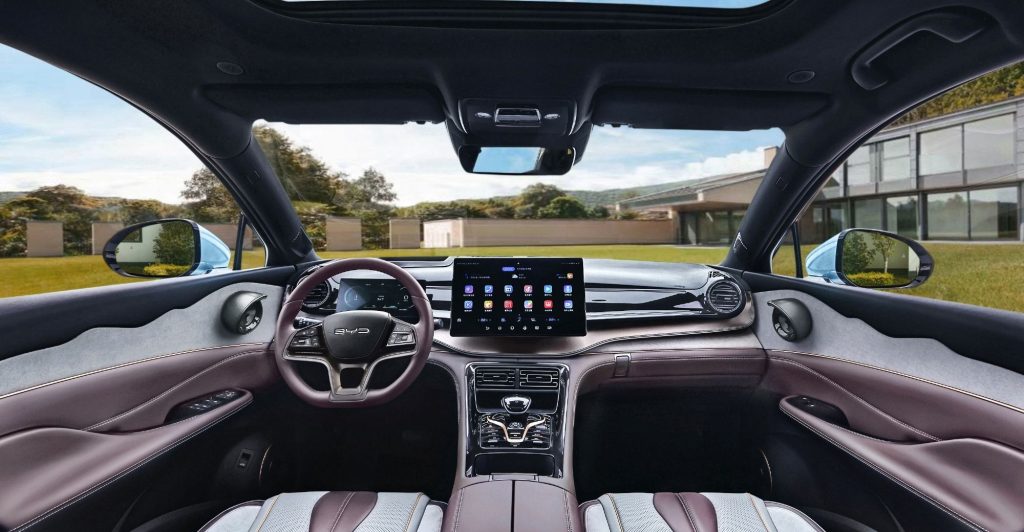 The BYD Frigate 07 has two sets of power options – DM-i and DM-p. At the same time, there are three versions of pure electric cruising range. The DM-i model has two pure electric cruising range options of 100 km and 205 km, and the maximum comprehensive cruising range exceeds 1,200 km. The DM-p model provides 175 km of pure electric battery life. At the same time, it comes standard with FSD variable damping suspension, which comprehensively improves the adaptability of suspension to road surface and maximizes the riding comfort of other passengers.
In November, BYD delivered a total of 230,427 vehicles, a slight increase of 6% month-on-month and 153% year-on-year. Its monthly sales exceeded 200,000 vehicles for three consecutive months. From January to November, 2022, the cumulative sales volume of BYD reached 1,628,300 vehicles, achieving the firm's annual target ahead of schedule. In addition to the domestic market, BYD's performance in overseas markets has also been impressive. In November, overseas sales of the Chinese carmaker's new energy passenger cars exceeded 10,000 vehicles for the first time, reaching 12,318 vehicles, with a month-on-month growth rate of 29.27%.