Like many industries, the construction vehicle and machine industry is on the path to electrification. It has been one of the latecomers to the electrification game, with little happening from OEMs until after 2020. But this is changing, with more electric product announcements covering a wider selection of vehicle types under the construction banner. IDTechEx finds that the EV construction vehicle market is about to take off and grow rapidly, with a 10-year CAGR of 37%.
One of the market's cornerstones of growth will be electric mini excavators. Mini excavators are the third biggest construction vehicle market by volume and the biggest in Europe. Their small size and lighter workloads make them an ideal fit for electrification, and they are a common entry point for OEM electrification.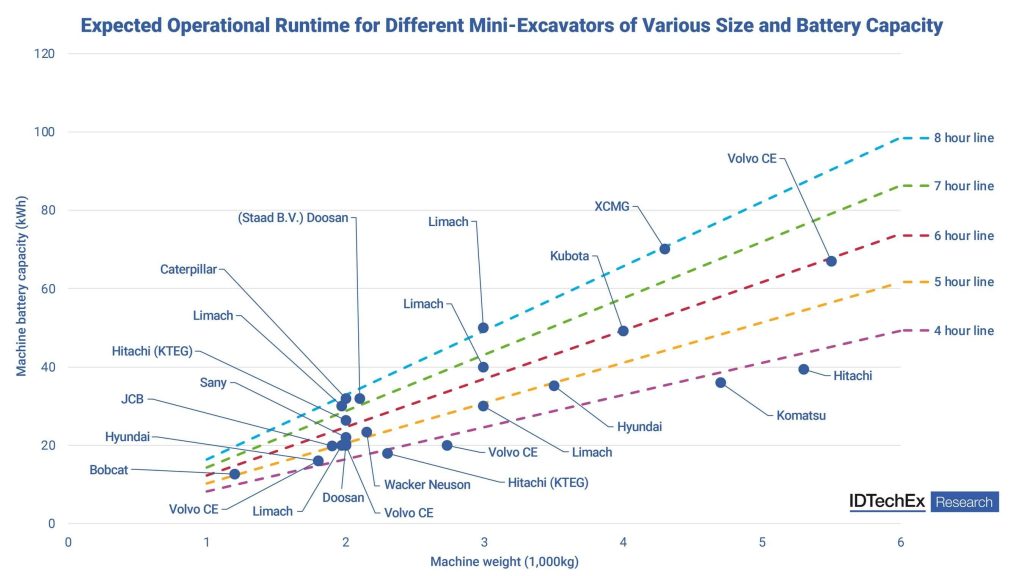 Equal or better performance
One of the main concerns that construction professionals might have when switching to electric is whether the new machines will have the power to get the job done. IDTechEx finds that, in many cases, electric machines have equivalent or even superior power when compared with their diesel counterparts. Maybe one of the best examples of this is the JCB 19C-1E, whose motor has a peak power of 20kW, approximately 33% more than diesel examples in IDTechEx's database, and nearly double the 11.7kW engine found in JCB's own 19C-1 diesel equivalent.
There should be no doubt then that an electric vehicle is every bit as capable as a diesel, but can the batteries provide endurance for a hard day's work? This is perhaps one of the biggest concerns for people wanting to transition to electric. IDTechEx's research found many examples of electric mini excavators that offer 6-8 hours of continuous operation, enough to get most operators through a normal work day.
Better environment for workers
It is well known that a major benefit of transitioning to electric is zero exhaust emissions. Even if a car is charged from a grid with high emissions, it still helps to remove emissions from city centers, improving air quality. The effect is even larger on construction vehicles. With open cabins and stationary vehicles, the air quality that an excavator operator and surrounding workers are exposed to can be very poor. This can lead to short- and long-term health effects, but zero-emission vehicles offer a significant quality of life benefit to construction workers, improving the overall air quality around construction sites.
Cheaper
Finally, electric machines can offer a significant reduction in the total cost of ownership. While the batteries add a considerable premium to the cost of building and purchasing the vehicle, the cost of batteries in the construction industry has been coming down. This will be helped further by OEMs like John Deere, Caterpillar, XCMG, and more, bringing electric products in-house and producing in larger volumes (instead of electric vehicles being built in limited runs by retrofitting engineering firms).
Between maintenance and fuel savings, IDTechEx predicts an electric mini excavator owner can expect to see a return on their investment in as little as six to eight years*. After which, these vehicles have the potential to save thousands of dollars annually in operating costs.
Mini-excavators are just the start and other vehicle types are now following. When the benefits are proven, the construction industry will quickly switch to electric and gain better job performance, conditions for the operator, and savings for the owners.