NIO has user loyalty that is hard to match by any carmaker in China, and referral purchases are an important source of its sales.
A few days ago it was reported that members of NIO's top-most user community, EP Club, have helped NIO sell an average of 25 cars each, and some have even sold more than 160.
This achievement, while making its competitors salivate, has been called by some as NIO's "pyramid scheme".
So how did NIO reach this achievement? What is the true nature of NIO's tricks?
Leaving aside the company's products and after-sales service, we found that NIO's user reward system plays a key role in this.
Two systems
Unlike most companies that have only one user reward system, NIO has two, which are independent of each other.
This practice, because it is not common, is often mistaken for the other one when NIO talks about one of them.
We have seen a lot of this confusion in Chinese media reports, and we ourselves have not been completely clear about it before, so we felt the need to look into it.
One of these two reward systems is called "NIO Credits" (积分) and the other is called "NIO Points" (蔚来值).
"NIO Credits" is the official translation we saw in the company's US listing prospectus. We did not find its official translation of "NIO Points", but the company uses "N" as its unit of measurement.
Each NIO Credit is equivalent to RMB 0.1 and can be used to make purchases at NIO Life, its online store in the NIO App. NIO Points, on the other hand, cannot be used for spending and are more like voting rights in a company structure.
The number of NIO Credits is displayed below the user name in the NIO App, while NIO Points are located slightly below, and users need to click the button to go to the next page to see them.
NIO Credits
In November 2016, NIO App version 1.0 was launched, and at that time it only had simple functions such as displaying official NIO news and gift center.
NIO introduced the NIO Credits reward system at this time, and users could get complimentary credits if they logged into the App every day.
At that time, NIO had just released the EP9 supercar, and there was still a year to go before the release of its first production model, the NIO ES8.
At the beginning of the NIO App launch, NIO was very generous in giving out NIO Credits to users in order to attract them.
In 2018, users who logged into the NIO App for 7 days in a row could earn 20 credits per day, and if they shared an article with others, they could earn more than 10 credits. At that time, a user could earn up to over 40 credits per day, equivalent to more than RMB 4 yuan ($0.6).
As of July 31, 2018, approximately 432 million NIO Credits had been used in total, according to the company's prospectus in the US.
Within the NIO App, all items sold in the mall, except for cars, can be purchased with credits or RMB.
Soon, this was seen by some as a great opportunity to get a free lunch, and there were even a lot of tutorials on the Internet teaching others how to do this. Many people resold the items redeemed through the NIO App in the second-hand market.
But it was this generous giveaway of credits that allowed the NIO App to quickly gain a large number of users, reaching 200,000 daily active users at the end of 2018.
On January 1, 2019, NIO adjusted its policy to change the credits given away to users from a fixed amount to a random amount, and also introduced technology to combat malicious behavior.
However, this was also the cause of a rapid decline in the NIO App's user base, with the number of daily active users falling to the bottom of around 120,000 at one point in February and March 2020.
NIO's rules for issuing credits have undergone several adjustments, with the latest coming into effect on February 1, 2021.
Here are the ways for users to earn credits.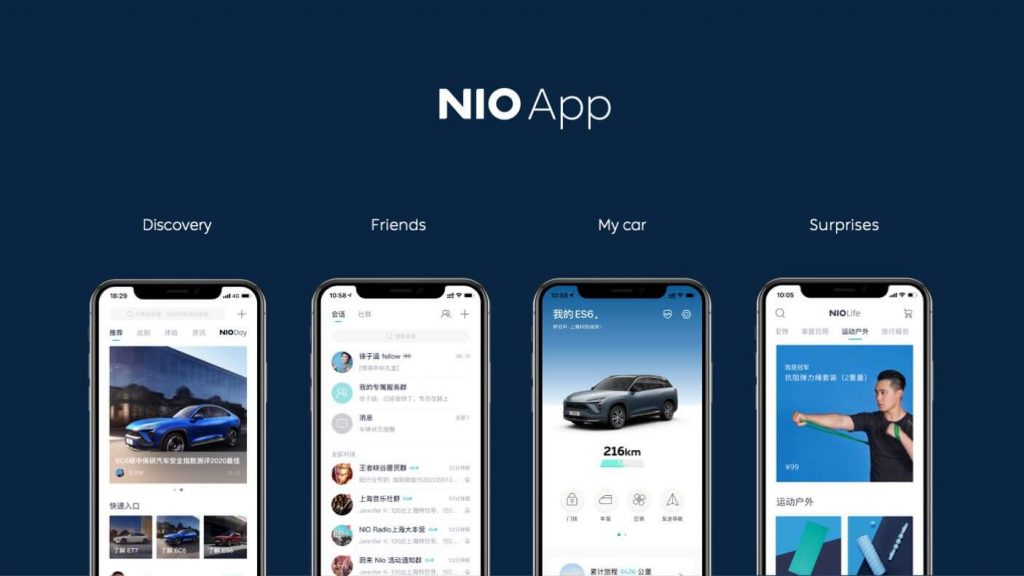 1. Use NIO App
Users can earn up to 100 credits by improving their personal information.
NIO randomly distributes credits ranging from 1-2021 to users who log into its app every day.
Users can earn 5 credits each time they post a comment, and an additional 10 credits if their comment is recommended.
Users can earn 50 credits for submitting feedback for the first time.
When users start an online campaign, they can set the number of credits they want to give away, and participants will receive the corresponding credits.
Users who post articles that are recommended on the front page of NIO App can earn 200 credits.
Users who share their orders in NIO Life can get 10 credits.
2. Benefits for users using vehicles
Users can get 10-200 credits if they accept the "recommended option" in the charging service.
Users who apply for and install their own meters when installing home charging stations can receive 888 credits.
Users can earn 50 credits for reporting charging stations in the charging map.
Users can earn 20 credits for reviews in the charging map that are considered helpful.
Users who purchase NIO's "Energy Care" service will receive 10 credits for every 1 kWh charged at a dedicated charging station, up to a maximum of 10,000 credits per month.
Users who charge from the clean energy grid will receive 1 credit for every kilowatt-hour of electricity.
Users who participate in NIO's Blue Point plan to contribute to reducing carbon emissions can earn credits tied to miles driven.
If users have not filed an insurance claim in the previous year and continue to purchase NIO's "Service Free 2.0" service, they will receive 20,000 credits.
If users have purchased "Service Free 2.0", they will receive 750 credits if they do not use the free repair benefit for the month.
If users purchase the "Carefree Insurance" service and do not use the refinishing service for the whole year, they will receive 3,000 credits.
3. Owner care
On the owner's birthday, NIO will give 188 credits, which will be available to owners who have paid a deposit and to co-owners of the vehicle.
NIO will present owners with surprise credits from time to time without any fixed amount.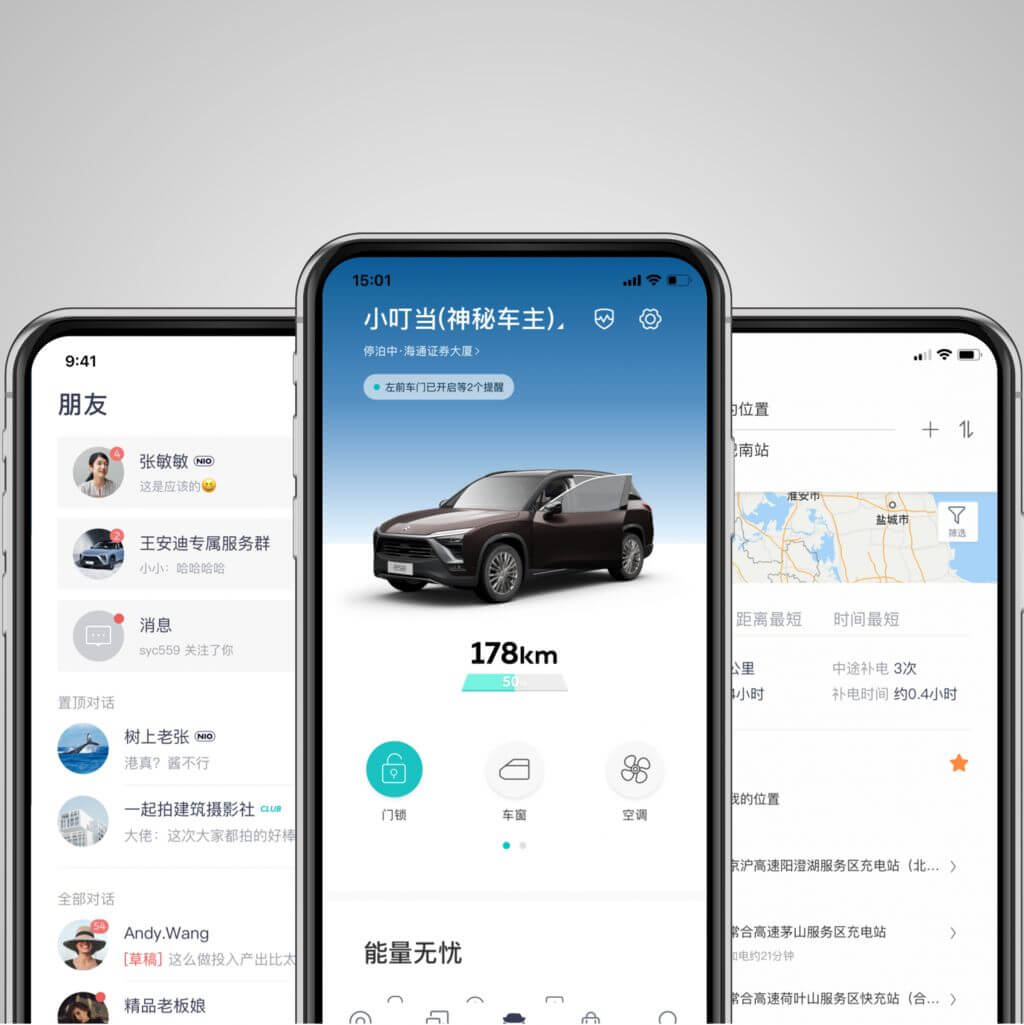 4. Referral reward
NIO App users who invite their friends to test drive NIO vehicles for the first time can get 188 credits.
If the friend they invite buys an NIO vehicle, they can get 12,000 credits when the friend gets the vehicle delivered.
Users can earn 10,000 credits when they get their vehicle delivered if they don't have an invitee, or 12,000 credits if they have one.
NIO owners who continue to purchase NIO vehicles can earn 24,000 credits for each new vehicle.
Users who invite a friend to buy a used car from NIO will receive 6,000 credits.
When a user purchases a used car from NIO for the first time, they will receive 5,000 credits if they do not have an invitee, and 6,000 credits if they do.
NIO owners who purchase a used car from NIO will receive 12,000 credits for each vehicle.
Owners who sell their vehicles to NIO will receive 30,000 credits for each vehicle.
Here are the scenarios of using NIO Credits.
After getting credits, users can use them for shopping in the NIO Life mall in the NIO App.
If they are car owners, they can donate credits to the article authors in NIO App, or send lucky credits to friends or in group chats.
They can use credits to buy desserts, drinks, car peripheral goods, rent office space, hold parties, and borrow books at NIO House.
Owners can also use NIO Credits to rent a car from NIO at their desired destination.
They can experience sports, music, and craft activities at NIO Houses.
Owners can use credits to pay for their use of NIO's "One Touch Power-up" service at a price of 1,800 credits per visit.
NIO Points
NIO released version 1.0 of its rules for NIO Points on September 5, 2018, which was updated to version 2.0 on December 3, 2019 and is still in use today.
Unlike NIO Credits, NIO Points are the number of words a user has on major events, and NIO uses "N" as its unit of measurement.
According to NIO, NIO Points are a record of each user's interactions and contributions to the NIO community.
How to get NIO Points
NIO points are awarded to users based on four dimensions: community interaction, community development, efficiency improvement, and special contributions.
1. Community interaction
Community interaction refers to the user's interaction within the NIO community, including online activity in the NIO App and in the car's center screen, as well as participation in offline activities organized by NIO or car users.
For every 100 consecutive days of sign-in in the NIO App, users can get 10N.
The user's activity in NIO App is derived based on a combination of algorithms, updated on a weekly basis, and can earn 0-5N per week.
If a user's original content is recommended to the home page of the NIO App, he or she can get 10N per piece.
If a user's original video work of a car guide published in the App is selected in NIO BOOK, each piece will get him or her 10N. If the video is selected by NIO for use in platforms including Douyin, the user will also get an additional 10N.
Users who have less than or equal to 1,000 followers in the NIO App will receive 1N for every 20 followers, and 1N for every 100 followers after their followers exceed 1,000.
Users' activity on NIO Radio, including the number of hours they listen to Radio and the frequency of interaction, can earn them 0-5N per week.
Users who participate in the recording of NIO Radio programs will receive 1-10N per episode, with an annual cap of 50N.
If users frequently participate in NIO activities, such as coffee making, parent-child interaction, they can get 1-2N for each activity.
Users who participate in some large-scale activities, such as NIO House store celebrations, seeds, outdoor competitions, will be given 1-5N according to the type of activity, with an annual cap of 100N.
Users who organize activities based on their own strengths and hobbies, such as book sharing sessions, driving tours, and public welfare activities, will be given 1-20N, with an annual cap of 100N.
Users can get 10N for renting space in NIO House for the first time, and no more for subsequent rentals.
2. Community development
Whether users purchase a car, introduce friends to NIO, or use cash to spend at NIO House or NIO Life, they can earn NIO Points.
Users can get 1,000N when they become new car owners. If they return the car or transfer the main user, the 1,000N reward will be deducted or transferred accordingly.
If a user sets up a family member as a co-owner of a new car (only 1 co-owner per car), the co-owner will also receive 1,000N.
A user who becomes a co-owner can only receive the 1,000N bonus at most once, regardless of the number of times it has been set up.
If the co-owner is already the primary car user or has NIO vehicle orders in their name, they will not receive additional NIO Points for becoming a co-owner.
Each primary vehicle user can only set up a co-owner once in a year.
Users will receive 500N when they repurchase NIO vehicles.
Users who complete a test drive for the first time will receive 5N; users who invite a friend to complete a test drive for the first time will receive 5N.
Users will receive 100N if they recommend a friend to purchase a new car; if the recommendation is to purchase a used car from NIO, the recommender will receive 50N.
When users make cash purchases in NIO's channels, they will get 1N for every RMB 200 they pay online.
3. Efficiency improvement
This refers to improving the efficiency of NIO's service system and social mobility.
If a user purchases NIO's "Service Free" and does not use the free maintenance for the whole year, you can get a reward of 120N.
NIO's "Insurance Free" customers who do not use the scratch repair service for the whole year will receive a reward of 60N.
If a user's year-end maintenance service is not used up, he/she can get 3N for each remaining day.
Users will receive 20N if they complete the exclusive charging pile's declaration and installation by themselves.
Users who participate in reverse battery swap, i.e., provide a fully charged battery to NIO's battery swap station, will receive 1N each time, up to a maximum of 10N in a single month.
When users initiate the one-touch battery swap service, if they choose the recommended option, the primary user will receive 1N each time, with an annual maximum of 25N.
Users who evaluate NIO's services will receive 1N for every 5 times they accumulate, with an annual cap of 25N.
Users who make reasonable suggestions for NIO's product or service issues can earn 1-5N each time.
4. Special contribution
NIO owner volunteers will receive 5N for every half-day of duty, with an annual cap of 100N.
NIO encourages users to cooperate in services, and the current project available is supercharging station cooperation. Users can choose to invest independently, or multiple people can invest together, with no more than 3 joint investors.
When users partner with NIO to build supercharging stations, if they are independent investors, they can receive 50N for the first year and 30N per year from the next year.
If the user is a partnership investor, they can receive 20N for the first year and 10N per year from the next year.
Users can partner with NIO Life to become NIO supermodels and participate in filming and other work, earning 10-20N each time.
Users who serve as an NIO Radio submaster will receive 50N per year.
Users who serve as NIO User Trustees receive 300 N. They receive 100 N when elected, 100 N at the end of the first year of their term, and 100 N at the end of the second year of their term.
Users who become members of the NIO user advisory boards, such as NIO Day User Advisors, Tournament Advisors, can receive 20-100N at the end of their term of office.
Users who have other contributions to NIO, such as helping NIO with brand promotion and participating in charity activities, will be given 1-100N each time, depending on their contributions.
What can NIO Points be used for?
1. Voting rights for important events at NIO
The most important feature of NIO Points is that it gives users a voice in voting on major NIO events, somewhat similar to a company's shareholders' right to vote on important decisions.
For example, on July 24, Suzhou was selected as the host city of NIO Day 2021, which was the result of NIO users' votes based on the NIO Points they hold.
Among Suzhou, Hefei, and Xi'an, Suzhou received 49.3 percent of the votes, or 30,971,620 votes.
The more NIO Points a user holds, the more say he or she has in the voting. For example, if a user has 1,000 NIO Points, then his one vote is considered as 1,000 votes. The author of this article has 42 NIO Points, so his vote is equivalent to 42 votes.
In addition, NIO Points play the same role in matters such as NIO allowing users to vote on changes to its community rules, and elections for community positions.
2. Eligibility for participation in major events
For some popular events, the more NIO Points a user has, the higher the probability that they will be invited, such as the NIO Day ticket giveaway.
3. Eligibility to join EP Club
The goal of NIO is not only to become a high-end car company, but also to provide users with a high-end social circle, and EP Club is the top presentation form of this.
Data from February this year shows that EP Club members have helped NIO sell an average of 25 cars each, and some have even sold more than 160, as recently reported by the local media.
According to the information announced by NIO, EP Club members can enjoy EP9 driving experience, FE viewing, and overseas study tours. In November 2020, many bloggers shared EP Club's trip to Lijiang in southwest China's Yunan province.
According to the 2021 EP Club membership rules, users can get a ten-year membership by purchasing an EP9 supercar worth about RMB 10 million ($1.5 million).
In addition, NIO also offers the option of annual membership as well as experience membership.
The annual membership is for the top 100 users with the highest NIO Points ranking and the fastest growth each year. The 2020 annual membership was for 150 people, including the 120 people with the most NIO Points and the top 30 fastest growing users.
The Quarterly Experience Membership is comprised of the top 10 fastest growing NIO Points users each quarter.
4. Other benefits
The top 10 users with the fastest-growing NIO Points each quarter can order songs and send blessings in the next quarter's NIO Radio program. They also have the opportunity to participate in the recording of the program and receive tickets to Radio Club Night.
Users with NIO Points above 1,200N can be exempted from paying a deposit when using the destination travel car rental service. However, if they are found to have bad usage habits, this benefit will be canceled.
Users with the highest NIO Points will have priority to experience the latest NIO OS.
On the basis of this complex user benefit, NIO emphasizes that the company will not treat users differently in terms of their rights as consumers because of the level of NIO Points.
The company treats all users equally when it comes to user services, including one-click power-up and one-click maintenance, NIO said.
---
This article was first published by Phate Zhang on CnEVPost, a website focusing on new energy vehicle news from China.