Startup Haomo's self-driving technology has earned two Chinese models five-star safety ratings from Euro NCAP.
---
While eyes were focused on the Tesla Model Y's dazzling results in a European safety test, we found something interesting that didn't get much coverage — two models from China also scored almost as well, especially in safety assistance.
The European New Car Assessment Programme (Euro NCAP) recently released safety test results for a number of models, and Model Y's five-star rating was widely reported in the English-language press.
The Tesla SUV scored 97 percent on Adult Occupant, 87 percent on Child Occupant and 82 percent on Vulnerable Road Users. Its Safety Assist score of 98 percent is the highest on the latest list.
Interestingly, adjacent to the Model Y on that list are two Chinese models — the Ora Funky Cat and the Wey Coffee 01 from Great Wall Motor, both of which received five-star safety ratings.
The Ora Funky Cat scored 92 percent on Adult Occupant, 83 percent on Child Occupant, 74 percent on Vulnerable Road Users, and 93 percent on Safety Assist, while the Wey Coffee 01 scored 91 percent, 87 percent, 79 percent, and 94 percent, respectively.
These two Chinese models in particular raised our curiosity with their scores on Safety Assist, considering they were second only to the Model Y with 98 percent. Except for these two, the only Safety Assist scores on the list that are 90 percent or higher are 91 percent for the Lexus NX, 90 percent for the Mercedes-Benz T-Class, and 90 percent for the Mercedes-Benz Citan Tourer.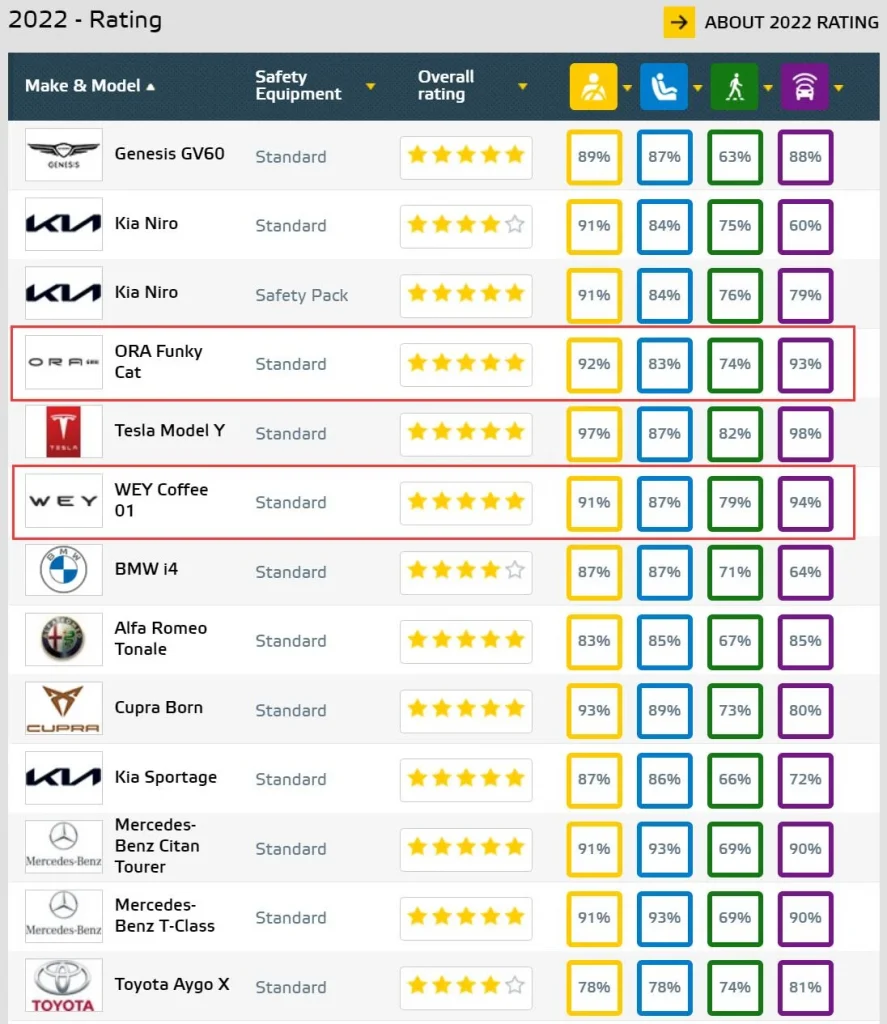 "We've seen good results from some Chinese manufacturers in the past, but also some very poor ones. This year, Euro NCAP will test more Chinese cars than it has ever done and Great Wall really sets the standard for others to follow," said Euro NCAP's Secretary General, Michiel van Ratingen.
It made us realize that we seem to have overlooked a fast-rising star in the autonomous driving space, and further digging proved it.
Assisted driving capabilities powered by Haomo
Both the Ora Funky Cat and the Wey Coffee 01 are powered by assisted driving technology provided by Haomo.AI, a Beijing-based startup backed by Great Wall Motor.
Haomo was the autonomous driving division of the former Great Wall Motor, which became an independent company in November 2019. Its core team is partly from Great Wall Motor's smart driving R&D team and partly from tech companies including Baidu and Huawei.
Backed by Haomo's technology, the Wey Coffee 01 and Ora Funky Cat scored 16.3 and 15.0 out of 18 in the latest Euro NCAP ratings for AEB Vulnerable Road Users, respectively. As a comparison, the Tesla Model Y scored 16.7.
In the AEB Car-to-Car score, the Wey Coffee 01 and Ora Funky Cat scored 5.7 and 5.5 out of 6, respectively. The Tesla Model Y scored 5.7.
Haomo's assisted driving capabilities were key to both models' ability to achieve the scores. "Especially in handling extreme scenarios including pedestrian crossings, Haomo has an industry-leading level of processing to make driving safer by braking the vehicle in time before a potential collision occurs," the startup said in a press release.
The results of the Wey Coffee 01, Ora Funky Cat in the latest Euro NCAP crash tests have set the stage for Great Wall Motor to accelerate its entry into the European market, Haomo said.
"We want to help local brands enter the EU with safer and more reliable technology, and help Chinese cars enter the premium market," the company said.
MANA supercomputing center
Haomo hosted an AI Day event focusing on self-driving technology on September 13, showcasing its latest technological achievements ahead of Tesla's AI Day in late September.
As of September 2022, Haomo's assisted driving products under the name HPilot are on seven passenger cars, and users have driven more than 17 million kilometers with them, according to the company.
The LiDAR-equipped Wey Mocca, unveiled at the Chengdu auto show on August 26, will be the first model equipped with HPilot 3.0, Haomo's third-generation intelligent driving system, with the ability to drive with high-level assisted driving in highway and city scenarios, Haomo chairman Zhang Kai said at the AI Day event.
The model will be mass-produced in September and its official launch and deliveries will start within this year, the company previously said.
Adoption of high-level assisted driving systems in the Chinese auto market has been growing rapidly since 2020, with the percentage reaching 26.64 percent in the first half of this year, Zhang said.
By 2025, more than 70 percent of new cars sold in China will be equipped with advanced assisted driving systems, Zhang added.
The rapid spread of assisted driving systems will go through three eras: hardware-driven, software-driven and data-driven, and the data-driven 3.0 era has now arrived, according to Haomo's CEO, Gu Weihao.
The core feature of the data-driven era is that the evolution of autonomous driving systems relies on large models, massive amounts of data and the ability to train themselves, Gu said, adding that Tesla has taken the lead in the 3.0 era of autonomous driving.
In Haomo's preparation for the 3.0 era, the startup launched research to target the transformer-based large models in June 2021.
Because such efforts require large-scale computing power to support them, Haomo officially announced at the AI Day event that it will build a supercomputing center called MANA, becoming the latest player after Tesla and XPeng Motors to dabble in a supercomputing center for autonomous driving.
The goal of Haomo's supercomputing center is to be able to train large models with 100 billion parameters, with a training data size of 1 million clips and an overall training cost reduction of 200 times.
It is worth noting that despite these high-profile moves in the autonomous driving space, Haomo is not well known in the Chinese market.
Great Wall Motor's NOH (Navigation on HPilot) equipped models also do not have the same intelligent label in the eyes of consumers as XPeng's vehicles.
Moreover, the export of high-end GPU chips from chip giants, including Nvidia, is being restricted by the US, which could potentially hinder Chinese electric vehicle companies' self-driving development.
However, for Haomo, an earlier preparation on supercomputing centers than most of its local counterparts may be the silver lining behind the clouds.
---
This article was first published by Phate Zhang on CnEVPost, a website focusing on new energy vehicle news from China.