Roadside perception research: evolution to integration, high performance and cost control.

In June 2023, at a regular policy briefing of the State Council the Ministry of Industry and Information Technology of China (MIIT) pointed out that the state will still adhere to the "vehicle-energy-road-cloud" integrated development, further improve connectivity infrastructures, and accelerate the construction of infrastructures for C-V2X, roadside perception and edge computing.  
In addition, the gradual implementation of the standards concerning roadside perception facilitates the steady and orderly development of the whole industry:

In May 2023, the "Roadside Sensing System for Vehicle Infrastructure Cooperative System—Part 1: Technical Requirements" and the "Roadside Sensing System for Vehicle Infrastructure Cooperative System—Part 2: Test Methods", two standards Beijing Baidu Zhixing Technology Co., Ltd. took the lead in formulating, was drafted for comments.


In June 2023, the CVIS Roadside Infrastructure—Technical Requirements and Test Methods for LiDAR was filed and reviewed, and officially fit into in the standard development plan of the China Society of Automotive Engineers, with the drafting task being No.2023-029. The standard was jointly initiated by Beijing Baidu Zhixing Technology Co., Ltd., Beijing Chewang Technology Development Co., Ltd. (BJCW) and Hesai Technology Co., Ltd. 
Based on roadside perception, roadside perception solution providers extend upward to the intelligent transportation industry.
The ultimate goal of roadside perception of smart roads is to serve people and enhance experience. For cost reasons, the current deployment of roadside perception hardware does not need to cover all roads, but starts from key sections and key scenarios, and then gradually expands to a larger number of smart road sections.
By business layout, roadside perception solution integrators can be roughly divided into two types:

Deploy some roadside perception hardware devices by themselves to open up the roadside perception industry chain. Most of the roadside perception solution integrators in the industry adopt this model, and Huawei is the most typical one. Huawei has completed the comprehensive layout of roadside perception hardware, computing units, communication units and integrated solutions;


Rely on roadside perception hardware from ecosystem partners. Those that underline ecosystem cooperation and remain weak in hardware deployment adopt this model, and Baidu is the most typical one. Baidu concentrates on developing integrated solutions and system architectures, while its roadside hardware is largely supplied by its partners.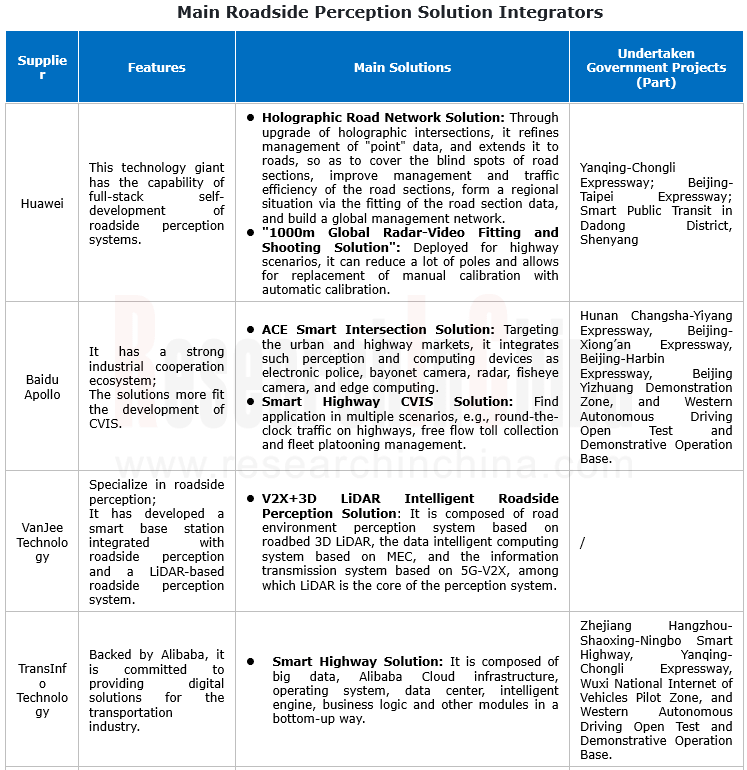 Huawei
In 2023, Huawei introduced the "1000m Global Radar-Video Fitting and Shooting Solution" suitable for highway scenarios. With the multi-dimensional perceptual fusion technology based on video and radar, the solution enables accurate collection of the road network traffic information, and real-time acquisition of dynamic and static traffic data.
It allows for structured analysis and fitting of the collected data via ITS800, the intelligent transportation edge hardware. Combined with HD maps, it can also realize round-the-clock perception, high-precision detection and low-cost deployment (reducing a large number of poles). 
Baidu
In May 2023, Baidu announced the "Zhilu OS 1.0". Driven by high-level autonomous driving technology and application, it is a basic software platform for intelligent connected roadside computing units under the overall architecture of China's vehicle-road-cloud integrated solutions.
It can provide complete vehicle-road-cloud integrated development environments, frameworks and application examples, helping intelligent transportation system integrators, automakers and autonomous driving technical solution providers among others to easily build CVIS-based autonomous driving systems and intelligent transportation applications from 0 to 1.
Roadside perception hardware evolves to high performance and cost control.
As an underlying basic technology, intelligent roadside perception plays a crucial part in the development of intelligent transportation/smart roads. Roadside perception hardware mainly includes camera, radar, LiDAR, and radar-video all-in-one. At present, single roadside perception hardware fails to meet the requirements of smart roads, while multi-sensor fusion is a development trend of roadside perception. The whole roadside perception hardware market is heading in the direction of high performance and cost reduction.
Integration
From the roadside perception market in 2023, it can be seen that both roadside video-only devices and radar-video all-in-ones tend to be integrated in appearance, becoming diversified, not limited to conventional forms like gun, cuboid and sphere.
Huawei
In March 2023, Huawei launched a stereo event radar-video all-in-one, a device equipped with two 8-megapixel cameras and radar. With the built-in 4T computing power supporting radar-video fitting algorithms, it integrates video and radar perception through the long- and short-focus relay lenses to perceive the entire tunnel, hereby effectively solving the problem of multiple sensors and difficult connection in the tunnel.
Sinoits
In April 2023, Sinoits unveiled Atongmu, its self-developed dual-spectrum radar-video all-in-one that uses infrared thermal imaging and visible light to collect videos. Integrating radar traffic analysis technology, it can accurately detect the position, speed and other information of objects, without being intervened by weather. This new cost-effective product works around the clock and features wide coverage and high accuracy. It is free of light, day and night, fog or rain. It requires lower additional deployment cost and low maintenance cost, and offers high reliability.
SMiTSense
In June 2023, SMiTSense introduced a 3D radar-video all-in-one, a device which combines the radar-video fusion algorithm with the radar-video fusion sensor for software-hardware co-optimization. It performs spatial matching and time synchronization of the 3D point cloud of the LiDAR and the 2D color image of the camera. With high object recognition accuracy, it can be used widely in intelligent transportation, for example, holographic tunnel, blind spot warning, overspeed warning, signal violation detection, and illegal road occupation.
4D radar
Radar is conventional hardware for roadside perception. In recent years, roadside vendors have started exploring the application of 4D radar to roadside. Among the mainstream roadside perception hardware suppliers, Raysun, DeGuRoon and HURYS have launched their 4D radar products.
DeGuRoon
"CitRadar-4DIR600", a 4D imaging radar revealed in March 2023, adopts a multi-beam time-sharing mode and intelligent MIMO virtual aperture synthesis technology, with the overall performance 64 times higher than conventional radars. The powerful data processing capability enables the radar to track up to 1,000 structured objects and support the data output in a 600m range. 
HURYS
In July 2022, HURYS launched RTE V29 microwave detector, a brand-new roadside 4D radar. Leveraging the self-developed 4D radar front-end and industry's leading algorithm, it perceives all participants in various traffic environments and accurately scans the profile height of objects, and empowers the high-precision holographic perception of intersections and road sections with high detection accuracy.  
Multi-channel solid-state LiDAR
LiDAR has obvious advantages at the roadside. The high cost however makes it hard to be used at the roadside on large scale. Thus the top priority for LiDAR suppliers is to cut down the application cost of roadside LiDARs.
High-resolution LiDAR performs much better in detection range and number of detected objects. For example, a 300-channel LiDAR offers a 150-meter detection range, while a 32-channel LiDAR can only perceive about 50 meters.
In addition, solid-state LiDAR is more applicable to the roadside that requires devices to work for a long time even without interruption. It remains superior in reliability and cost and is thus aligned more closely with the requirements for construction of 5G CVIS.
Innovusion
The Falcon AI was released at the end of 2022 as highly integrated ultra-long range AI LiDAR designed for CVIS and smart high-speed scenarios, with the longest detection distance of 500m and high-computing GPU module supporting various deep learning algorithms. It can greatly reduce the configuration requirements of edge computing and the complexity of system deployment.
Falcon AI, an integrated ultra-long-range AI LiDAR released in late 2022, targets vehicle-infrastructure cooperation and smart highway scenarios, with the longest detection range up to 500 meter. It integrates a high-compute GPU module to support various deep learning algorithms, which can greatly reduce the configuration requirements of edge computing and the complexity of system deployment.