Vehicle OTA Research: OTA functions tend to cover a full life cycle and feature SOA and central supercomputing.

In the trend for software-defined vehicles, OTA installations are surging, and software is updated far more frequently. 
According to the statistics from ResearchInChina, from January to June 2023, OTA was installed in 5.274 million passenger cars in China, a like-on-like jump of 31.8%; the installation rate of passenger car OTA in China hit 57.0%, a spike of 11.9 percentage points over the same period of the previous year.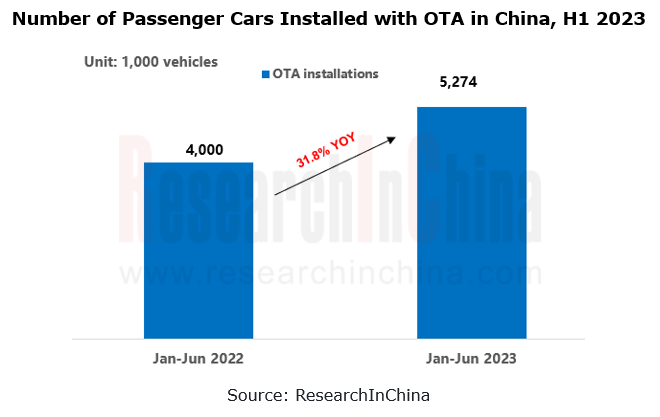 As of July 2023, 57 auto brands (including emerging, Chinese independent, and joint venture brands) had accomplished about 696 OTA updates, including 338 updates by 11 emerging brands, 229 OTA updates by 30 Chinese independent brands and 129 OTA updates by joint venture brands
In the past two years, OTA updates have become much more frequent, especially carried out by new high-end brands of emerging carmakers or conventional OEMs. Emerging carmakers like Tesla keep offering updates almost every month, and there are several minor updates on each major version, covering the full range of models (the updates on the same version may slightly vary over models); Xpeng provides OTA updates almost every month in 2023.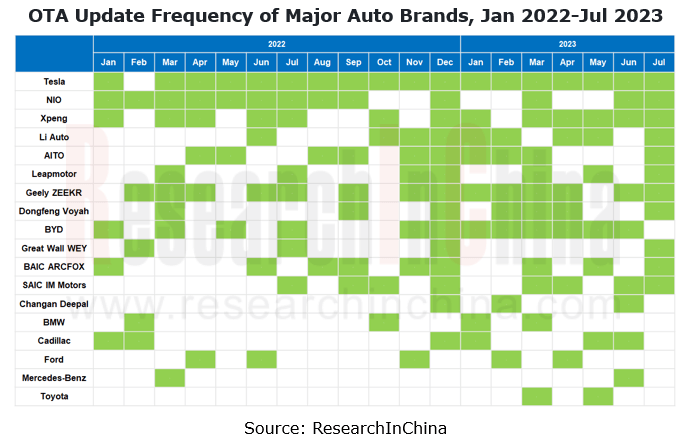 In terms of operation, new energy vehicle companies such as NIO, Xpeng, Li Auto, Voyah, ZEEKR and IM Motors are also willing to listen to users' opinions while fixing problems, and solicit feedback and suggestions from users to design and upgrade some realizable functions, so as to enhance driving experience and brand loyalty. For example, the OTA updates on the IMO 2.0 for IM L7 in April 2023 were made by following through on suggestions from IM's users.
As vehicles become ever more intelligent, vehicle OTA updates provide a wider coverage, and the speed and performance of OTA updates are also improving rapidly.
Brand-new electronic/electrical architecture has become a key cornerstone for vehicle OTA. In the evolution from domain integration to centralization, OTA coverage on various models become ever wider on the basis that hardware configuration and Ethernet communication are being improved. In Changan Automobile's case, with the launch of new models based on new platform architecture, OTA updates that were originally available to over 10 controllers now can cover nearly 40 controllers of Changan Deepal in the power, chassis, intelligent cockpit, intelligent driving, and body control domains.
Besides wider coverage, OTA also brings better technical performance and better user experience, specifically in update speed, security and convenience,  as new architecture for new models becomes centralized, hardware and network configurations get improved, and breakthrough in OTA differential and dual-partition technologies are made. For example, based on the new architecture Fuyao X-EEA 3.5 and the vehicle software platform that is based on SOA layered vehicle and data interface design, Xpeng G6 can manage basic functions and intelligent functions in a hierarchical way, and enables paradigmatic multiplexing of software development services via APIs and atomic interfaces. This can greatly reduce the development difficulty and cost of the upper software, and increases the top vehicle OTA update speed by 300%. 
NIO continues to improve OTA updates. First of all, the OTA updates on NIO OS2.9.0 have realized the evolution from packaged updates to differential updates and then to separate SOTA updates. Starting from NIO OS 2.9.0, NIO FOTA updates can be remotely controlled through the NIO APP. Since then, NIO has added a number of functions through OTA updates, such as appointed FOTA installation, FOTA software download after the vehicle is locked, automatic updates on system applications, etc., bringing more convenience to users, making users enjoy various applications more flexibly and timely, and responding to everyone's feedback more nimbly.
To meet the surging market demand, OTA suppliers keep improving their product systems and gradually built end-to-end full-lifecycle solutions.
In the fierce competition in new energy vehicle intelligence, the automotive industry will see a gradual transition to the "era of software-defined vehicles". OTA is the first definitive opportunity in the trend for software-defined vehicles. The OEM installation rate of OTA has approached 60%, and automakers gradually shift their focus from OTA construction to OTA operation and subscription. After all, user experience is the key to testing OTA. Suppliers such as ABUP, CAROTA, Harman, Bosch ETAS, Desay SV and PATEO CONNECT+ thus work to deploy OTA end-to-end solutions to meet the fast-growing market demand.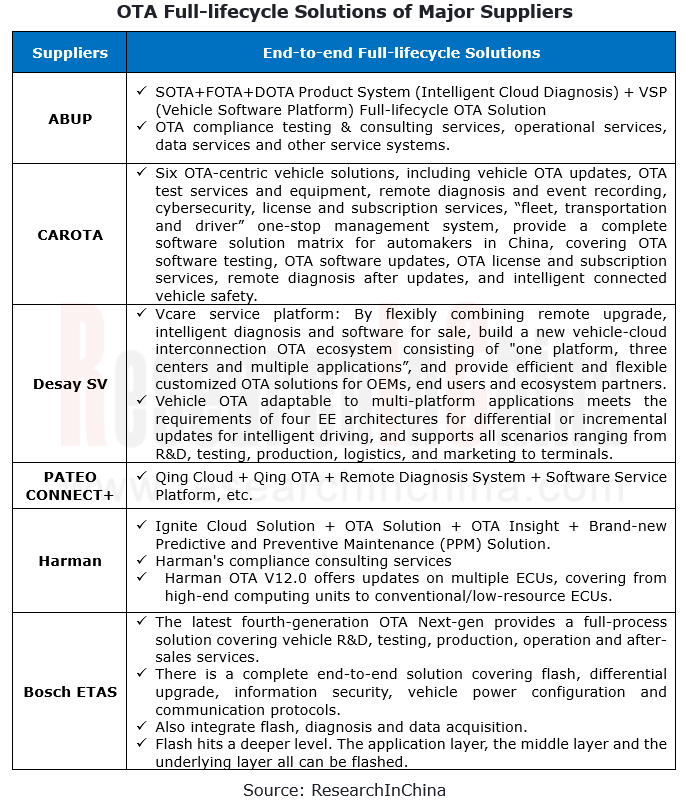 HARMAN OTA has formed a partnership with the IC continuous monitoring solution provider proteanTecs in view to further strengthen HARMAN's Predictive and Preventive Maintenance (PPM) offering for the next-generation Software Defined Vehicle. The solution will enable vehicle OEMs to efficiently predict a multitude of issues before they become real problems and then utilize HARMAN's state of the art OTA capabilities to detect and fix the issues to minimize the possibility of failures.
Since it deployed multiple product lines, ABUP has successively launched the two new products of DOTA (intelligent cloud diagnosis) and VSP (vehicle software platform), and has made layout of vehicle full-lifecycle solutions in 2023, in addition to the original SOTA (vehicle software upgrade) and FOTA (vehicle hardware upgrade) products.
As for market expansion, OTA suppliers not only offer multiple flexible supply modes, but also make layout by providing pre-integrated solutions together with partners so as to gain a higher market share, reduce repeated development and improve iteration efficiency.
In April 2023, Horizon Robotics released the TogetherROS·Auto (TROS.A) intelligent driving application development kit. ABUP OTA acts as the support channel for the iterative upgrade of TROS.A, and its OTA service module is pre-integrated into TROS.A for wide adoption of advanced intelligent driving.
In January 2023, Elektrobit announced that its OTA solution EB cadian Sync UCM Master has been pre-integrated into the Starter Kit (version 2.9 and later) of EB corbos AdaptiveCore, Elektrobit's AUTOSAR solution.
In December 2022, Elektrobit and Airbiquity announced a joint, pre-integrated OTA solution that will enable the next generation of safe and secure OTA services for the mobility industry. The solution combines Elektrobit′s in-vehicle OTA update software products with Airbiquity's multi-ECU OTA software management platform, making it easier for OEMs to source and build an end-to-end OTA system for their vehicle fleets.
In December 2022, Elektrobit and Airbiquity announced a joint, pre-integrated OTA solution that combines Elektrobit's in-vehicle OTA update software products with Airbiquity's multi-ECU OTA software management platform, making it easier for OEMs to source and build an end-to-end OTA system for their vehicle fleets.