On September 15, 2023, Chinese automaker NIO announced the launch of the new generation EC6, marking a generational shift from its predecessor. The all-new EC6 is built on NIO's nt2.0 platform and represents the final model to be introduced on this platform.
It comes in two versions with different battery capacities, 75kWh and 100kWh, with prices ranging from RMB 358,000 to 416,000. Charging options include DC fast charging and battery swapping. Notably, with the introduction of the EC6, the entire nt2.0 platform lineup has removed the onboard charger (OBC) for AC slow charging.
TrendForce Insights:
1. NIO's Decision to Remove OBC Appears Radical but Rational
The OBC's function is to convert AC electricity from home or public grids into DC electricity for storage in the new energy vehicle's battery pack. Mainstream OBC power specifications range from 3.3 kW to 22 kW, and their functions can be categorized as unidirectional or bidirectional, depending on power flow.
Given that public DC fast charging stations are often limited in number and come with high installation costs, having an OBC allows new energy vehicle owners to charge at home or at public AC slow charging stations, providing greater charging flexibility.
Considering the current range anxiety caused by limited driving range and insufficient charging stations, automakers have been cautious about removing the OBC. NIO, apart from its extensive investment in battery swapping technology, was the first automaker in China to introduce home-based DC fast chargers with power outputs of 7 kW, 11 kW, and 20 kW.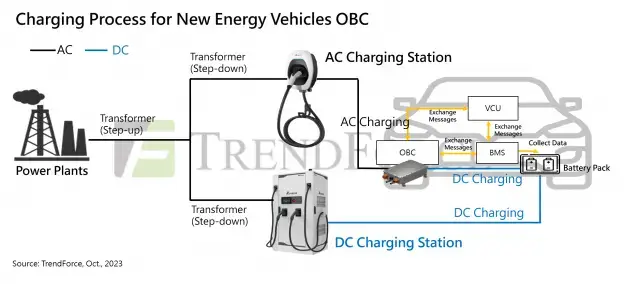 Home-based DC fast chargers essentially "transfer" the OBC from the vehicle to the charging station, enabling new energy vehicle owners to charge at higher power levels at home. Removing the OBC can lead to cost savings and weight reduction, and installing OBC into the charging station can eliminate the need to comply with the most stringent automotive regulations, potentially shortening the overall vehicle development timelines.
According to NIO's statistics, the company has the highest number of public charging stations among Chinese automakers, with nearly 20,000 public charging stations. The combination of battery swapping, home-based DC fast chargers, and public charging stations positions NIO with the confidence to remove the OBC.
2. As Long as Range Anxiety Persists, OBC Remains an Essential Component in New Energy Vehicles
To reduce the range anxiety experienced by car owners, NIO's investment in charging infrastructure has imposed substantial financial burdens. Additionally, not all car manufacturers are inclined to adopt a strategy similar to NIO's. Given the current state of the charging infrastructure, the removal of the OBC can still inconvenience vehicle owners.
For example, some commercial establishments, driven by economic considerations, continue to install a certain number of AC charging stations. If a new energy vehicle owner lacks an OBC, it may lead to a situation where all vehicle owners vie for DC charging station parking spots. This not only affects parking turnover rates but may also result in resource wastage.
According to data from TrendForce, the current global ratio of electric vehicles (EVs) to public DC charging stations remains as high as 7:1 on average. In other words, there are more than 7 EVs vying for a single public DC charging station. In some regions, this ratio is even higher. Until the issue of range anxiety is effectively resolved, the presence or absence of OBC will continue to influence consumer willingness to purchase EVs to some extent.
Also, the OBC serves a purpose beyond simple current conversion—it enables bidirectional OBC, allowing for Vehicle-to-Grid (V2G) power transfer. Combined with the high mobility of EVs, this positions new energy vehicles to play a more critical role in future smart grid planning.