While there is no standardized definition of micro EVs, it is generally used to describe small vehicles that can seamlessly navigate highly populated urban areas. Micro EVs are designed for short trips of only a few kilometers and travel at low speeds, typically under 80 kilometers per hour (with various regional exceptions). These vehicles do not rely on internal combustion engines, and many are powered by electric motors.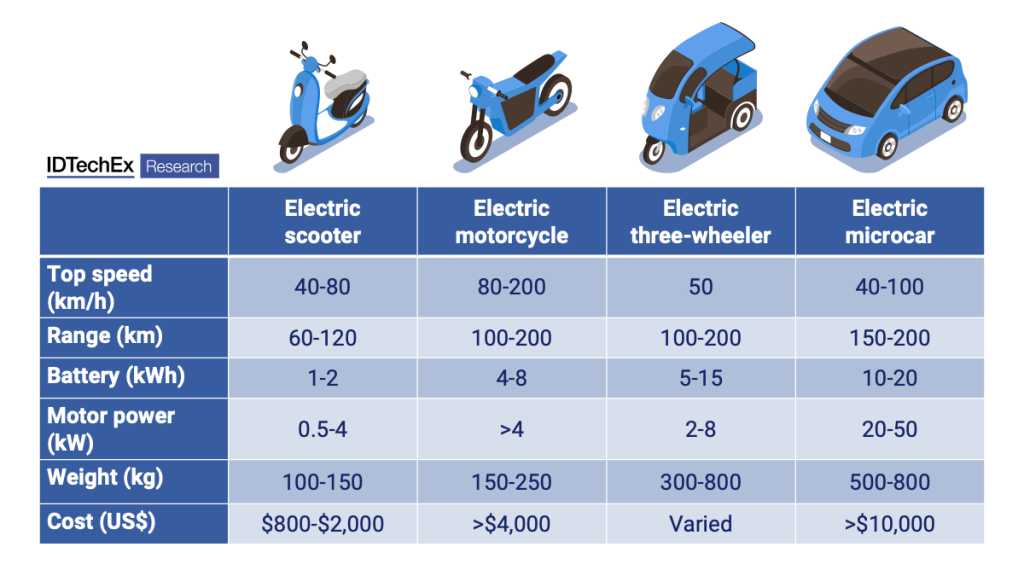 Electric two- and three-wheelers are the 'low hanging fruits', as these are used by the masses in India, China, and Southeast Asia for last-mile connectivity due to their low cost of operations. Urbanization in these countries has been, and is, increasing rapidly – a trend correlated to a rise in the demand for personal mobility and the emergence of local e-commerce businesses. This leads to sales of electric two-wheelers for the individual and the use of three-wheelers as ride sharing or cargo delivery.
Microcars are an important piece of the puzzle as well. Offering more space, power and protection than two- and three-wheelers, these tiny vehicles come at an affordable price and are designed for an urban environment. Most car trips are short trips carrying just one person.
Most of the energy is wasted on carrying the vehicle's own weight. Oversized vehicles are the root cause of urban congestion, pollution, and wasted energy, material, and public space. As cities everywhere move toward a high-density, low-speed, low-impact model, it calls for a new type of personal vehicle to be created for people to conveniently get around in – this is where microcars are trying to fit in.
A US$180 Billion Market Opportunity
Electric two-wheelers will continue to be the most popular micro EV segment. Their popularity can be attributed to their low price, ease of use, and small form factor, making them ideal for use in dense urban centers. Electric three-wheelers (E3W) remain a crucial part of the micro EV spectrum. Most of their sales come from China, where they are an essential means of cargo and passenger transportation.
The electric microcar market will also pick up traction as compact cars become popular due to their low price but will remain small in volume compared to two- and three-wheelers. The market for electric two-, three-wheelers, and microcars combined will reach around US$180 billion by 2043, according to IDTechEx forecasts.
Lithium-ion to Replace Lead-Acid
Lead-acid batteries currently dominate the electric two- and three-wheeler markets due to their low price and ease of availability. However, policies in major markets like India and China are now incentivizing the use of Lithium-ion, which will experience a gradual uptake to become the preferred choice of battery. Lithium-ion offers better energy density, cyclical performance, faster charging, and longer lifetimes. Microcars use lithium-ion exclusively due to the nature of their operation, which are more energy intensive.