The Li L9 is comparable in size to the Mercedes-Benz GLS and BMW X7, but with a price tag of about $68,650 it is less than half the price of the flagship SUVs from the two German luxury automakers.
---
After months of warming up, Li Auto's (NASDAQ: LI, HKG: 2015) new SUV, the L9, is finally here.
Li Auto officially unveiled the L9, the company's second model after the Li ONE SUV, at a launch event on the evening of June 21 Beijing time, continuing with the extended-range technology of its predecessor.
The Li L9 is priced at a flat price like the Li ONE at RMB 459,800 ($68,650), though it's RMB 110,000 higher than the Li ONE's RMB 349,800.
Li Auto offers only three premium colors and a paid option package for power pedals, all priced at RMB 10,000.
Reservations for the L9 opened at the end of the launch, and consumers who reserve before July 15 will receive an RMB 5,000 discount on the extra options.
Li Auto is also offering existing Li ONE owners an additional incentive to purchase the L9, with 2020 Li ONE owners receiving an RMB 10,000 discount and 2021 Li ONE owners receiving 30,000 credits.
The company said it will allow customers to test drive and lock in their orders on July 16, with deliveries starting by the end of August.
It is worth noting that Li Auto founder, chairman and CEO Li Xiang mentioned the model name Li L9 Max when announcing the price at the end of the event, perhaps implying that the company may also launch other variants based on it in the future.
The Li L9 is a full-size SUV with a length, width and height of 5,218 mm, 1,998 mm and 1,800 mm, respectively, and a wheelbase of 3,105 mm, nearly identical to the top family SUVs from German luxury carmakers Mercedes-Benz and BMW.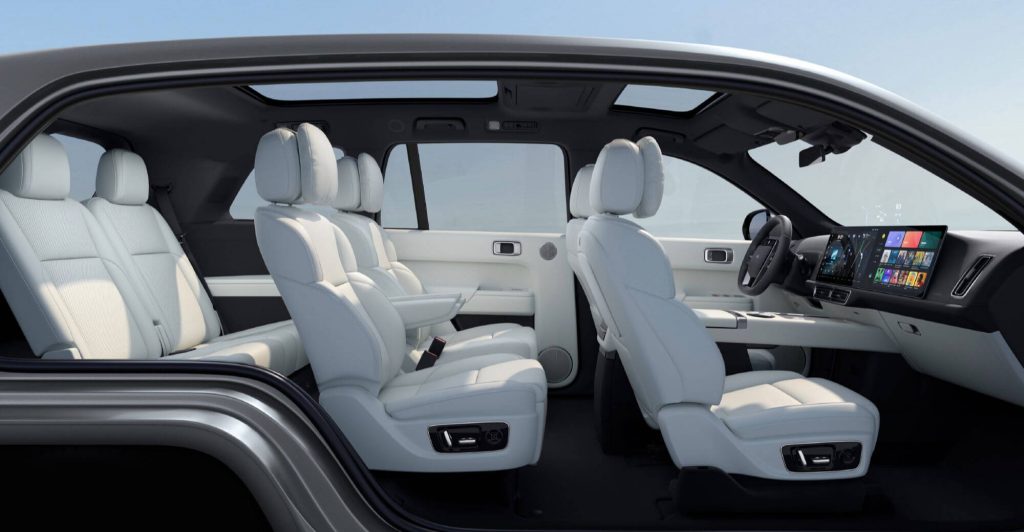 The length, width and height of the Mercedes-Benz GLS are 5,218 mm, 2,030 mm and 1,823 mm, with a wheelbase of 3,135 mm. The length, width and height of the BMW X7 are 5,163 mm, 2,000 mm and 1,835 mm, with a wheelbase of 3,105 mm.
In terms of pricing, the Mercedes-Benz GLS has a suggested retail price starting at RMB 1,068,000 ($167,630) and the BMW X7 starts at RMB 1 million, both twice the price of the Li L9.
The Li L9 features an intelligent four-wheel-drive system with a maximum front-drive motor power of 130 kW and a maximum rear-drive motor power of 200 kW.
The vehicle has a total power of 330 kW, a torque of 620 Nm and an acceleration time of just 5.3 seconds from 0-100 km/h.
Unlike its predecessor, the Li ONE, which used a three-cylinder engine, the Li L9 uses a 1.5 T four-cylinder range extender, produced by Li Auto Xinchen, the company's joint venture with Xinchen China Power.
The range extender has a thermal efficiency of 40.5 percent and consumes as little as 5.9L/100km hot in fuel mode.
The Li L9 is equipped with a ternary lithium battery supplied by CATL with a capacity of 42.6 kWh and an available capacity of 39.2 kWh, giving a CLTC range of 215 km or a WLTC range of 180 km.
With a full tank of fuel and a full charge, the Li L9 can reach a CLTC range of 1,315 km.
The Li L9 comes standard with an intelligent air suspension that automatically lowers the body at high speeds to reduce energy consumption.
Its interior center screen, passenger entertainment screen and rear cabin entertainment screen all feature a 15.7-inch OLED screen with 2,880*1,620 resolution, powered by two Qualcomm Snapdragon 8155 chips.
The Li L9 has a large HUD in front of the steering wheel and a safety driving screen above the steering wheel that displays core vehicle information.
The Li L9 comes standard with the company's intelligent driving system, Li Auto AD Max, which uses high-performance cameras as the primary source of perception, with hardware including six 8-megapixel cameras and five 2-megapixel cameras.
The Li L9's forward-facing LiDAR is equipped with 128 lasers with a resolution of 1200×128 and a point cloud count of 1.53 million/second, the most comprehensive performance of any LiDAR already in production for vehicles, the company said.
The model's intelligent driving computing platform contains two NVIDIA Orin-X processors with a total computing power of 508 Tops, with the dual processors serving as redundancy for each other.
The Li L9's power system, steering system, braking system and arithmetic platform power supply system are also redundantly designed to guarantee reliability.
Beijing-based Li Auto was scheduled to launch the L9 on April 16, but the plan was postponed to today due to the Covid epidemic.
Although the Li L9 is RMB 110,000 more expensive than its predecessor, the Li ONE, the company seems confident that the model will sell well.
On June 4, Li Auto founder, chairman and CEO Li Xiang said on Weibo that the model will be officially delivered to customers in August and deliveries could exceed 10,000 in September.
As a comparison, Li Auto's only model currently on sale, Li ONE, delivered 11,496 units in May, up 176 percent from April and 165.93 percent from the same month last year, data it released earlier this month showed.
Since the 2019 Li ONE launch, Li Auto has delivered a cumulative 171,467 vehicles, according to the company.
---
This article was first published by Phate Zhang on CnEVPost, a website focusing on new energy vehicle news from China.