Global automakers evolve to software-defined vehicles by upgrading EEAs.
Centralized electronic/electrical architectures (EEA) act as the hardware foundation to realize software-defined vehicles. At present, leading foreign OEMs are aggressively deploying centralized EEA.

For example, Mercedes-Benz's newly developed electronic architecture uses a central processor (254TOPS) to replace the previous independent computing controllers, making data calculation and transmission faster and more stable. It will be installed in Mercedes-Benz E-Class, a model expected to be marketed in China in November 2023.
Hyundai Motor is developing domain centralized EEA to manage ever more electrical components by system efficiency. The domain centralized architecture divides main vehicle functions into four domains: comfort, driving, infotainment and ADAS, so as to ensure vehicles improve efficiency via OTA updates. Hyundai Motor Group plans to apply the domain centralized architecture to all its models worldwide by 2025.
Renault-Nissan-Mitsubishi Alliance is also developing a common centralized electronic and electrical architecture converging electronics hardware and software applications. By 2026, the next generation of models under the alliance will use this architecture. The alliance will also launch its first software-defined vehicle by 2025 to improve the full life cycle OTA performance of vehicles.
Leading foreign OEMs build core software capabilities by strengthening their software talent deployment.
For the transition to software-defined vehicles, leading foreign OEMs have increased their investment in software and algorithm talents. In February 2023, Cariad, the software division of Volkswagen, announced that it would recruit more than 1,700 employees. Volkswagen itself and its subsidiary premium car brand Audi need 700 and 400 IT specialists respectively. In May 2023, Toyota announced that it would train 9,000 employees in-house by 2025, hoping to turn them into software developers. In May 2023, Nissan strengthened cooperation with KPIT Technologies, an Indian R&D company. Based on this partnership, KPIT Technologies plans to increase the number of its vehicle system software development experts working for Honda from 1,100 to a level close to 2,000 by 2030.
At the same time, leading foreign OEMs are exploring AI technology, especially the application of generative AI in autonomous driving and cockpits, for movement towards intelligence.
In September 2023, Amazon Web Services (''AWS'') announced the BMW Group had chosen AWS as the preferred cloud provider for its automated driving platform. The BMW Group will develop its next-generation advanced driver assistance system (ADAS) using AWS to help innovate new features for its next generation of vehicles, the "Neue Klasse," set to launch in 2025. The new cloud-based system will leverage BMW's pre-existing Cloud Data Hub on AWS, and will use AWS compute, generative artificial intelligence (generative AI), Internet of Things (IoT), machine learning, and storage capabilities to help accelerate the delivery of highly automated BMW vehicles.
Tesla is also exploring the application of generative AI technology. In April 2023, Tesla registered a new artificial intelligence startup named X.AI Corp, in Nevada. The company plans to launch a generative AI platform called "TruthGPT", an alternative to ChatGPT.
In the product development stage, generative AI can automatically generate new designs through existing planned training models, so that designers can improve these designs, thereby reducing labor costs and improving efficiency. In June 2023, Toyota Research Institute (TRI) unveiled a generative AI technique to help employees design car shapes faster. A designer can request, via text prompt, a suite of designs based on an initial prototype sketch with specific stylistic properties like "sleek," "SUV-like," and "modern".
Leading foreign OEMs will deploy ADAS functions in China.
From January to June 2023, 9.256 million passenger cars were sold in China, of which 4.713 million units (down 3.5% from the same period last year), or 50.9% of the total (down 4.1 percentage points on a like-on-like basis), came from foreign brands. During the same period, 3.258 million foreign brand passenger cars in China were equipped with ADAS, jumping by 12.9% from the prior-year period and accounting for 61.8% of China's overall ADAS installations (down 5.4 percentage points compared with the same period of the previous year); the ADAS installation rate rose by 10 percentage points to 69.1%.

In terms of ADAS level, from January to June 2023, 1.972 million foreign brand vehicles were fitted with L2 ADAS, with the installation rate up to 41.8%; 246,000 foreign brand vehicles were installed with L2.5 ADAS, with the installation rate up to 5.2%.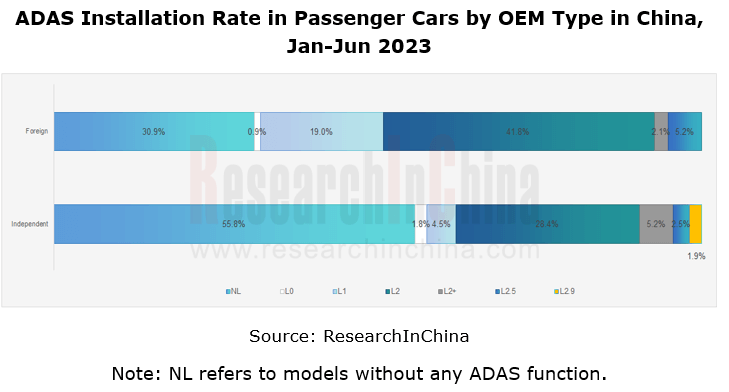 Leading foreign OEMs have made deployments for providing advanced intelligent driving assistance functions in the future.
In 2023H2, Mercedes-Benz will first launch its DRIVE Pilot feature in China. By then, Mercedes-Benz cars equipped with this function can drive from point to point on highways and urban expressways across the country.
Starting from 2024, SAIC-GM will provide the Chinese market with NOA and HPA on highways and urban public roads.
Tesla is also vigorously deploying its autonomous driving business in China, hoping to introduce its FSD solution in China (expected in 2024). In August 2023, Tesla planned to establish a local operation team of around 20 people to implement its FSD solution into the Chinese market. Tesla also tried to set up a data labeling team consisting of about 100 people in China to prepare for training the FSD algorithm.
Leading foreign OEMs are open to cooperation in China and shore up their weak spots.
Faced with the rising passenger car sales of Chinese local OEMs and intelligence competition from them, leading foreign OEMs have become more open in layout and cooperation in China, decentralizing power to their R&D teams in China and exchanging capital for technology to shore up their weak spots.

First, leading foreign OEMs, including BMW, Volkswagen and Hyundai Motor, have given their R&D teams in China more authority. In addition, Toyota and Nissan have put forward the idea of feeding back technologies in China to the world.
Second, since the second half of 2023 many leading foreign OEMs have begun to quicken their pace of mass-producing intelligent driving to gain greater competitive edges by cooperating with Chinese brands.
In July 2023, Volkswagen acquired a 4.99% stake in Xpeng for USD700 million. In terms of R&D, Xpeng will provide technologies such as vehicle platforms, intelligent cockpits and intelligent driving software, while Volkswagen is mainly responsible for the interior and exterior design of bodies and models.
In August 2023, Nissan intended to cooperate with Dongfeng Motor, and use the S BEV platform in Dongfeng Motor's "Quantum Intelligent Electric Architecture" (launched in April 2023) for R&D and production. The new quantum architecture will be equipped with 800V high-voltage fast charging technology, enabling a cruising range of more than 1,200 kilometers, and supporting shared battery swapping.
In September 2023, Hyundai Motor Group announced that it would strengthen cooperation with BAIC Group in new energy vehicles, and the models in their cooperative project were in the development and testing stage.
According to LatePost Auto, Huang Chang, CTO of Horizon Robotics, will join the joint venture between Horizon Robotics and Volkswagen with some senior R&D personnel from Horizon Robotics. The joint venture will use the intelligent driving solutions and algorithm training platform of Horizon Robotics to provide Volkswagen with driving assistance functions including highway NOA.
With the help of local ADAS suppliers in China, leading foreign OEMs will narrow the gap with Chinese local OEMs in intelligent driving functions in the next 2 or 3 years.