On July 4, Huawei-backed smart vehicle brand AITO introduced its second model, the M7, merely three months after AITO began deliveries of its inaugural model, the M5. This fast-tracked progress apparently spotlights the upstart new-energy vehicle brand's ambition to earn fame in the mid-to-large size luxury SUV market.
The M5, only launched at the end of last year, has already tallied cumulative delivers of more than 18,000 since its March delivery. The M7 predecessor recorded pre-orders of over 10,000 units in June. The baby car brand seems to be even ahead of the curve, when compared to the early days of Chinese EV firms NIO and Li Autoh.
Convincingly, AITO was described as the fasting-growing smart EV brand by Richard Yu, the chief executive of Huawei's Consumer BG at a July 4 event, during which the M7 was unveiled along with the Chinese tech conglomerate's new lineups, ranging from smartphones and smart watches to smart home systems.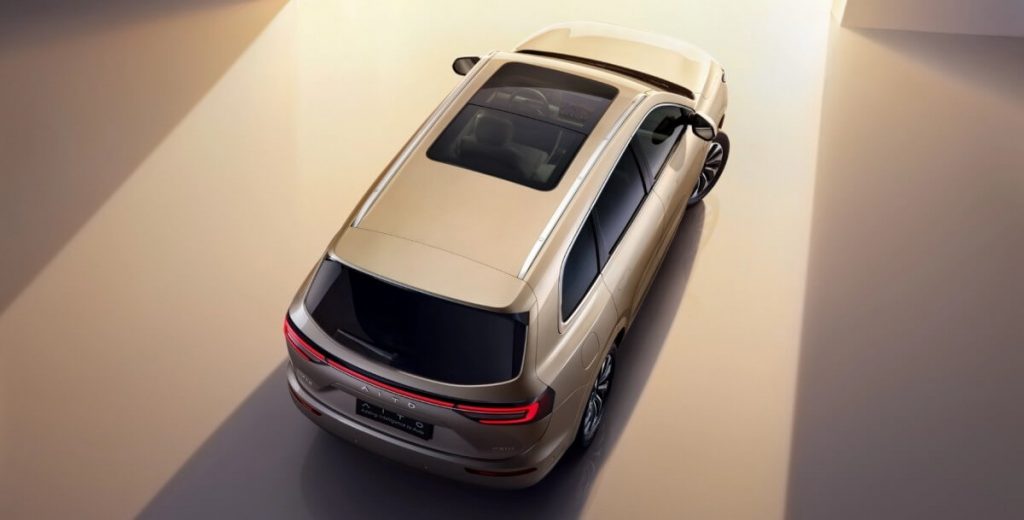 The marketplace for smart vehicles is now known for its stiff competition. To anchor newborns such as AITO in the red ocean arguably necessitates sufficiently appealing offerings. Delivery and sales numbers for the M5 surely speak volumes about AITO's initial success.
AITO, a tie-up between Huawei and Chongqing Sokon's brand Seres, has been a focus of attention since its inception, buoyed by Huawei's software and hardware solutions and its powerful sales network.
The M7, sporting Huawei's self-developed HarmonyOS smart cockpit system, is seen as typifying Huawei's intention to redefine EVs.
During this year's Guangdong-Hong Kong-Macao Greater Bay Area Auto Show, Yu, also CEO of the Intelligent Automotive Solution BU at Huawei, said that the M7 was intended to outsmart upscale large SUVs priced above $150,000 in terms of comfiness and smart experience.
As users increasingly consider cars as an enabler of individualization, the trend of maximizing intelligence is becoming a significant factor behind consumers' car purchase decision-making.
Huawei apparently knows where the key to eventual purchase decisions lies. The M7 is a spacious SUV with a 2-2-2 seating configuration, making it an ideal choice for big families. In a sign of user-centric approach, the model's second row features a zero-gravity sleep setup.
A breakdown of the M7's functionalities tells more about its magnetism.
Unlike many smart cars that directly add mobile navigation software into their cockpit system and allow for slight adaptation, the M7 features the HarmonyOS smart cockpit platform that specifically optimizes smart mapping and navigation experience based on Petal Maps.
Petal Maps is shown to be well received among M5 users, with a monthly usage ratio of 93.1 percent, far higher than other vehicle-mounted map services and an effective alternative to navigation services on smartphones.
If a user's smartphone and cockpit system are signed in to the same Huawei account, the user can turn on mobile navigation before getting in the car and the mobile navigation service will then be automatically synchronized in the onboard computing system, thereby leading the user to the destination.
As part of efforts to ensure precise positioning, Petal Maps packs a combination of Global Navigation Satellite System modules and shadow matching algorithms in urban scenarios to precisely locate the vehicle in building-intense areas. Furthermore, Petal Maps integrates voice typing and speech recognition to enable searches for destinations, choosing locations and routes, the addition of places to pass through on the way, among other operations, thereby genuinely allowing for hands-free navigation.
The M7 also features impressive car audio, moving on with the HUAWEI SOUND system that has heaped praise on the M5. Its audio setup includes 19 speakers. This, adding to a 15.6-inch display in the car cockpit, as well as Huawei's partnerships with top global record labels and major video platforms, would supposedly meet user demands for premium content.
On top of that, the M7 epitomizes Huawei's efforts to push for a unified ecosystem with a Huawei account acting as a pass to sign in all of its gadgets. The M7 supports the HarmonyOS super desktop for the first time, which entices users to access mobile apps shown on the car display.
Interestingly, the HarmonyOS cockpit facial recognition functionality is capable of switching between accounts if different users get on board who are also Huawei HarmonyOS phone users. Unsigned users would automatically trigger visitor mode.
In a nutshell, the launch of the M7 comes across as paving the way for Huawei's tech prowess to feed into the auto arena. As cars are destined to evolve into smart vehicles, the competence of maximizing human-vehicle interactions rather than manufacturing itself has risen to prominence when it comes to auto readiness evaluations. That's something that Huawei has already proven to be good at, while Apple has yet to flex its muscles.
Over the years, Apple Car hype has frequently made headlines, however, an Apple-branded car remains elusive, despite the long-term and even increasing popularity of its iconic iPhone lineup.
Elon Musk confirmed in late 2020 that he once reached out to Apple CEO Tim Cook about the sale of Tesla during the Model 3 crunch, but Cook didn't even want to take a meeting.
The lack of interest in acquiring Tesla back then apparently deprives Apple of a shortcut to EV championship.
In a tweet in mid-March, Ming-Chi Kuo, the most-cited voice on all things Apple wrote, "The Apple Car project team has been dissolved for some time. The reorganization within the next three to six months is necessary to achieve the goal of mass production by 2025."
If that's the case, the Apple Car will be mass-produced at least a decade after rumors began to transpire that the iPhone maker was working on car tech.
Why has it been so arduous for the apple of global tech fans' eye to work out its car project? Some particularly believe that Apple's exceptional strength in supply chain management, which has catapulted it to become the king of smartphones globally, notably in revenue terms, actually complicates its shift toward car fame, as auto supply chains are much more complex than that of phones. Apple's tight control over global supply chains, the key to its gadget success, won't be easily replicated in the car plan's case.
Apple's prolonged roadmap to its car project, the iPhone maker's loss in the era of intelligent vehicles, is evidently its tech rivals' gain, as shown by Huawei's fast rise to fame in the car world.