Research on tier 1 suppliers' cockpit business: new innovative intelligent cockpit products highlight multi-domain integration, multimodal interaction, and ever higher functional integration.
Following the market trend, work to develop new-generation cockpit computing platforms, and lay out products such as cockpit-driving integrated products and even central computing platforms.
In the past two years, closely following the development trend of the intelligent vehicle market, quite a few Tier 1 suppliers including Neusoft Group, Yuanfeng Technology, Desay SV, ThunderSoft, Joynext, PATEO CONNECT+, ECARX, Bosch, Aptiv, and Visteon have worked to deploy new-generation cockpit products. Based on the mass-produced intelligent cockpit computing platforms like Qualcomm 8155, they have also vigorously made layout of new-generation intelligent cockpit computing platform products based on higher-performance cockpit chips such as Qualcomm 8295 and AMD Ryzen, and are expected to start volume production of these products in 2023.
Neusoft Group developed and introduced the future-oriented vehicle HMI platform Neusoft C5 in 2022, and also released an upgraded version in 2023. The new vehicle HMI platform still uses the pluggable, expandable hardware architecture design where one basic board, two function boards and one expansion board are combined via uniform interfaces.
While improving the computing power, Neusoft C5 enables efficient integration of basic vehicle functions, gateways, body control, intelligent cockpit, and other extended functions. In software's term, it implements the scene engine through service-oriented architecture (SOA), providing immersive and personalized scene experiences for the vehicle entertainment system.
Not only that, based on the 4th-generation Qualcomm Snapdragon Automotive Cockpit Platforms as well, Neusoft makes more use of its advanced software and hardware architecture design capabilities and achieves multi-ECU and multi-domain integration, so as to develop its next-generation intelligent cockpit platform.
Only one chip is used to support the deployment and application of 16-channel cameras, 12-channel ultrasonic radars, and more screens, and achieve upgrade of intelligent cockpits in all aspects such as computing power, leading configuration, entertainment, security, function, and hardware. While improving the interior interaction, comfort and safety for users, the platform helps automakers cut costs and improve efficiency. New cars equipped with this product are expected to be available on market in September 2023.
Moreover, multi-domain integrated products such as cockpit-parking integrated and cockpit-driving integrated products have also been introduced in recent two years, and some of them have been mass-produced and installed in vehicles. In 2022, Yuanfeng Technology's team developed the Cockpit-Parking Integrated Solution 1.0, an intelligent cockpit platform that uses a Qualcomm 8155 SoC to support the deployment and use of 4 cameras, multiple screens and 12 radars, and integrates the capability baseline of Intelligent Cockpit 1.0 and Super Park 1.0 (AVM+APA).
Wherein, the Super Park 1.0 delivers a parking space recognition accuracy of 97% and a parking success rate of 95%, covers more than 180 types of mainstream parking spots, and supports head-in parking; for unconventional parking spaces, the custom AR parking allows users to deal with in stride. 
Yuanfeng Technology's Cockpit-Parking Integrated Solution 1.0 was first mounted on Hycan A06 in late 2022. By 2024, there will be 6 models packing the solution to be marketed.
The capabilities of Yuanfeng Technology's Cockpit-Parking Integrated Solution 2.0 will also be developed, and delivered via OTA updates. The Cockpit-Parking Integrated Solution 2.0 will deploy a vehicle voice GPT model, build in a more realistic and easy-to-use 3D UI, and upgrade to lane-level high-definition navigation; the Super Park 2.0 will further optimize AVM/APA performance, reducing the average parking time to less than 35s, increasing the parking success rate to 97%, and upgrading the AVP function.
Meanwhile, Yuanfeng Technology will announce its cockpit-driving-parking integrated solution in 2024. In addition to the capability baseline of Intelligent Cockpit 2.0 and Super Park 2.0, this solution will add multiple ADAS functions in rigid demand, such as ACC, LCC, AEB, and BSD.
New vehicle display technologies such as optical display, hidden display and recognizable display are applied to vehicles.
Vehicle display is the core product for cockpit visual interaction. With continuous upgrade in quantity, size and technology, new vehicle display technologies and products mushroom.
At its 2023 smart car solution conference, Huawei unveiled HUAWEI xScene, a light field screen which uses optical engine technology to enable 3-meter long-distance imaging, 40-inch ultra-large format and 90PPD super-retina-level resolution. As an effective solution to eyestrain, this screen can also effectively lessen car sickness. The launch of HUAWEI xScene brings in new possibilities to vehicle displays. Currently it has three product forms: copilot seat, seatback and headrest types. In the near future, it will be available to several production commercial vehicle models.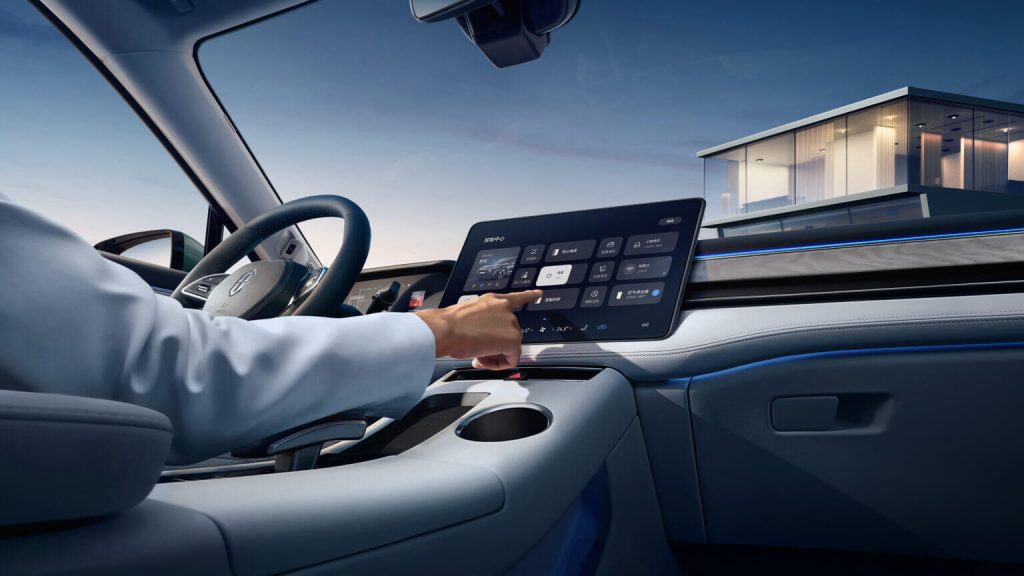 As concerns the integration of vehicle lighting and AR-HUD, based on its self-developed 2K automotive optical imaging module and end-to-end capabilities, Huawei pushes on with the large-scale commercial use of AR-HUD. As the primary in-car display, HUAWEI xHUD AR-HUD not only severs as an alternative to the dashboard but also outperforms it. Huawei proposes more innovative applications such as intelligent driving visualization, lane-level navigation, reversing camera, digital elf, and giant screen viewing.
At the Auto Shanghai 2023, Continental and its partner trinamiX introduced their co-developed Driver Identification Display, a product which integrates a camera solution for driver biometrics, allowing for touchless and secure driver authentication and protection against fraud and theft.
In addition, Continental has also developed In2visible, a display technology which enables display of content as needed. It is almost invisible to human eyes when not needed, thereby offering higher safety and comfort.
Supported by new technologies such as AI foundation models, multimodal interaction enables more details and innovative expansions.
In May 2023, ThunderSoft released "Rubik GeniusCanvas", a product that fuses Kanzi and foundation models. This product is built with ThunderSoft's intelligent coding foundation model Rubik Studio, automotive HMI design software, and 3D engine Kanzi, providing super intelligent assistance for designers in terms of concept creation, 3D element design, special effect code generation, and scene construction. Designers only need to provide some simple verbal dialogues, and Rubik GeniusCanvas can design images and build models as required, which greatly improves the design efficiency and quality of vehicle cockpit HMI.
Rubik GeniusCanvas helps to shorten the concept creation cycle by 70% from the original 3 or 4 weeks to about 1 week, and the 3D element design cycle by 85% from the original 4 or 6 weeks to about 3 days.
In April 2023, HELLA, a subsidiary of Forvia, introduced Apollon, a new smart surface technology which uses HELLA's latest Slim Light technology and high-power RGB LED modules and cooperates with HELLA's self-developed simulation software to enable a variety of dynamic lighting scenes. As well as conventional static lighting, this technology also enables multiple functions such as vehicle distance warning, turning indicator and new color-changing array light source by way of flashing, flowing, and color mixing of multiple light sources.
In April 2023, Marelli introduced SmartCorner?, a new intelligent vehicle lighting product which combines a camera or LiDAR and headlights into an integrated system and perceives pedestrians via sensors. Hong Jing Drive provides algorithms such as pedestrian perception and target orientation determination.
In the trend for multi-domain and central domain controllers, Tier 1 suppliers are trying hard to deploy function integrated products.
In the trend for multi-domain and central domain controllers, quite a few Tier 1 suppliers are aggressive in laying out function integrated products like vehicle navigation integrated, body domain control, and airbag integrated products.
In January 2023, Desay SV successfully incubated a mass-produced body domain controller product that integrates most body control functions including keyless entry and start, smart air conditioner, electric tailgate, intelligent tire pressure monitoring, smart seats, wiper control, smart lights, window anti-pinch and parking radar.
At the Auto Shanghai 2023, Forvia demonstrated its door panel and mass-produced camera monitor system (CMS) integrated solution that integrates the CMS displays on the door panels. 
As for vehicle communication, T-BOX tends to integrate with products like smart antenna and V-Box. For example, Continental developed a new-generation T-Box that integrates a shark fin antenna; by virtue of the "all-in-one" design concept and technical strength, Neusoft that offers mature smart antenna products effectively realizes vehicle intelligent connection and saves wiring costs.
More than that, based on the characteristics of 5G and integrating its self-developed V2X protocol stack (VeTalk), Neusoft also provides customized development of V2X DAY1 and DAY2 scenes and development of new 5G application scenarios. Neusoft is also the first one to launch 4G/5G+V2X BOX and achieve mass production, leading the market.
Amid localization, the advantage of "foreign + local" cooperative market expansion stands out.
In recent years, China's intelligent vehicle market has boomed. The Chinese market has become a global "wind vane" in both technological innovation and consumption. Both local Tier 1 suppliers and foreign companies are working to making localized layout.
Layout of localized solutions and services has become the top priority for foreign Tier 1 giants. In addition to their own Chinese teams, deploying together with China's local companies is a new way for them to make a market expansion.
Typical collaborations include Bosch + Autolink, Bosch + WeRide, Continental + Motovis, and ZF + Neusoft Reach. In the context of ever faster update on hardware and functions, the cooperation between foreign Tier 1 suppliers and China's local technology companies enables a quick response to the changes in the Chinese market, and more localized services are provided to meet the needs of OEMs for innovative and diversified products.
For example, Bosch joined hands with Autolink to deploy China's intelligent cockpit market. In April 2023, they jointly announced the new-generation intelligent cockpit 4.0 which creatively integrates in-cabin intelligence, vehicle services and related ecosystems into one middleware, a disruptive cockpit development mode. The solution allows for efficient customization by different automakers to build personalized brands.
Global and China Tier 1 Suppliers' Intelligent Cockpit Business Research Report, 2023 consists of two volumes:
– "Chinese Companies" in 514 pages, covering 9 Chinese Tier 1 suppliers, i.e., Neusoft Group, Yuanfeng Technology, Desay SV, ThunderSoft, Joyson Electronic, Foryou Group, PATEO CONNECT+, Huawei and ECARX; 
– "Overseas Companies" in 420 pages, covering 6 foreign Tier 1 suppliers, i.e., Continental, Bosch, Denso, Forvia, Valeo, and Panasonic.