Reaching net zero emissions will require massive amounts of critical raw materials, which are currently used in everything from solar panels to electric vehicles. For EVs, diversifying battery manufacturing and critical raw materials supplies will be key to ensuring secure and sustainable supply chains
Global EV sales are soaring, and the transition has only just begun
Electric vehicle markets are still showing great strength across the board, breaking new records as sales surge. A total of 14% of all new cars sold were electric in 2022, up from around 9% in 2021 and less than 5% in 2020. Global sales exceeded 10 million last year alone – and this level of growth isn't expected to slow any time soon, with almost one in five new cars sold worldwide this year set to be electric.
Global EV sales exceeded 10 million in 2022
The acceleration in EV sales is gradually being reflected in car fleets across the globe but at a much slower pace, mainly due to production struggles over the last couple of years and consequently low replacement rates. The estimated EV share of the fleet – including plug-in hybrid electric vehicles (PHEVs) – reached just 2.2% in 2022.
Despite surging EV sales, the transition has really only just begun. This means that demand should continue to soar on the back of subsidies and future phase-out targets and regulations for internal combustion engine (ICE) vehicles. When total costs of EV ownership are on a par with those of ICE vehicles (and even begin to drop below them) in the second half of the decade, we can expect an extra upswing.
We're just at the start of the replacement and electrification of car fleets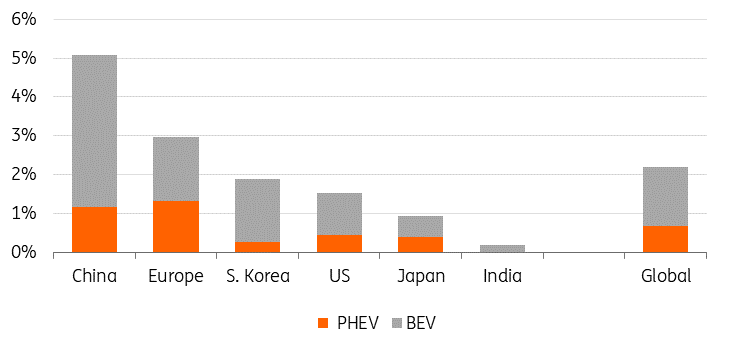 Battery metals demand rises as EV market matures
In 2019, only 2.5% of cars sold worldwide were electric, while in 2023 they're set to reach 17%.

China, the EU and the US are the leading markets, with electric cars set to surge to 60% of total car sales across these three economies by 2030 – that's if supply is able to keep up.

As the demand for EVs rises rapidly, so does the demand for the minerals inside their batteries. Until the market matures and the fleet reaches critical mass in various regions, recycling won't play a significant role just yet.
Expansion of EV sales is set to soar by 2030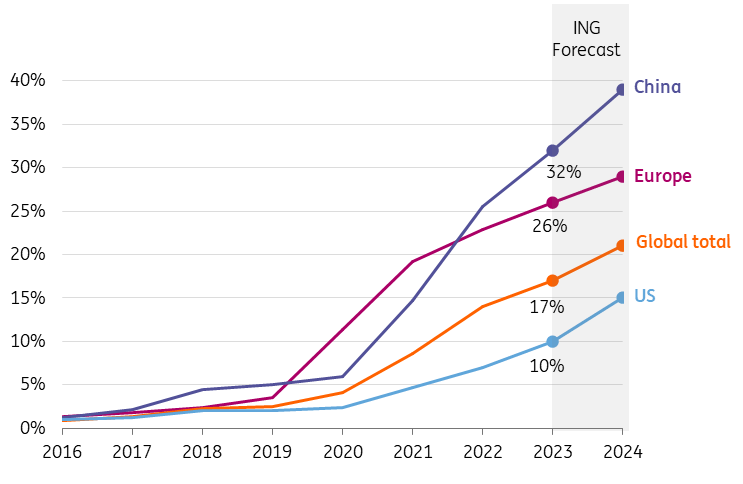 EV supply chains struggle to keep up with rapidly expanding end use markets
The expansion of EV sales is driving up demand for battery materials. Automotive lithium-ion (Li-ion) battery demand increased by about 65% to 550 GWh in 2022, from about 330 GWh in 2021. According to data from the International Energy Agency (IEA), this surge was driven primarily by growth in EV sales.
"Squeezed supply chains and looming shortages of critical metals both present a major risk for the energy transition"
In 2022, about 60% of lithium, 30% of cobalt and 10% of nickel demand were for EV batteries. Five years prior, these shares were around 15%, 10% and 2% respectively. Lithium, rare earth elements, chromium, arsenic, cobalt, titanium, selenium and magnesium recorded the largest production volume expansions – ranging between 33% for magnesium and 208% for lithium – in the last decade.
This still falls far short of the four to six-fold increases in demand projected for the green transition, according to a report from the Organisation for Economic Cooperation and Development (OECD). At the same time, global production of some critical raw materials, such as lead, natural graphite, zinc, precious metal ores and concentrates, as well as tin, declined over the last decade.

Squeezed supply chains and looming shortages of critical metals which are key for battery manufacturing present a major risk for the energy transition as we head towards 2030. Lagging investments in mining may also add another challenge to the mix as we begin to see the supply-demand balance grow increasingly fragile.