Automotive electronics OEM/ODM/EMS research: amid the disruption in the division of labor mode in the supply chain, which auto parts will be covered by OEM/ODM/EMS mode? 

Consumer electronic manufacturing service (EMS) providers are becoming important players in the automotive industry.
Due to the sluggish growth of the consumer electronics market, many consumer EMS providers have begun to tap the new automotive electronics (OEM) market. Top manufacturers such as Luxshare Precision, BOE, Lens Technology and Sunny Optical Technology have produced phased results.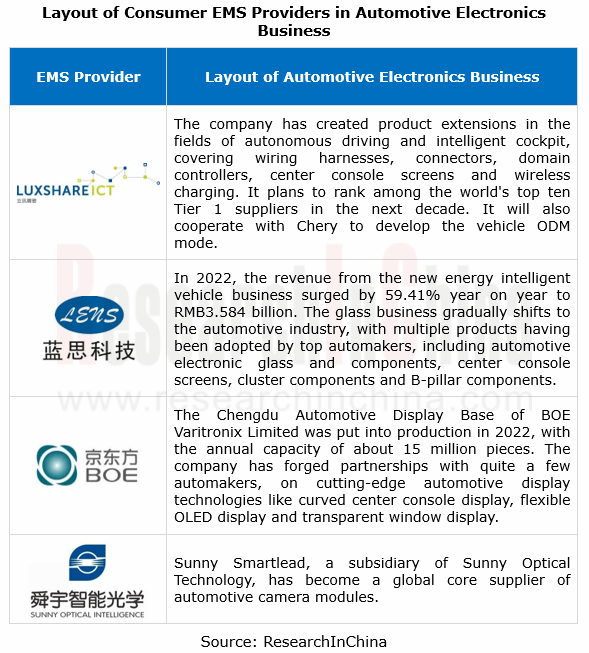 Besides acting as Tier 1 suppliers of automotive electronics, consumer EMS providers are also expanding the OEM business rapidly, for example:
Sunny Optical Technology manufactures LiDAR modules for Innovusion;
Cowell (Apple's main supplier of front camera modules), a subsidiary of Luxshare Precision, has secured a LiDAR OEM order from RoboSense. It participates in the design and manufacturing through joint design manufacturing (JDM) model. The LiDAR business become its second growth curve;
Luxshare Precision cooperates with Chery to develop the ODM model with actual projects scheduled to be carried out around 2024. It targets conventional foreign automakers and Chinese Smart EV brands.
As concerns automotive OEMs, emerging carmakers and conventional mainstream automakers are making continuous efforts on full-stack independent development. As they enjoy more autonomy in hardware design and definition and seek to develop differentiated and customized products, the problems such as long development cycle, high development cost, inflexible cooperation models, low openness and patent ownership stand out in conventional suppliers.
Vehicles become more like smartphones. Automotive OEMs not only want to define and master the system architectures and software algorithms of core products by themselves, but also hope to lead or participate in the design of hardware systems and outsource the manufacturing to automotive electronics companies, thereby deriving three models: OEM, ODM and EMS.
OEM (original equipment manufacturer) model: automakers design, and designate OEMs which manufacture according to the original designs and provide OEM services with materials supplied by the automakers;
ODM (original design manufacturer) model: upon the requirements of customers and their desired functions, ODMs take on all the links from product R&D to design, and then to production. Automakers that purchase their service only need to brand the finished products. As cross-border car manufacturing flourishes, the ODM model featuring "commissioned design and manufacturing or original design and manufacturing" has begun to prevail, for example, the cooperation between JAC and NIO, between Seres and Huawei, between Chery and Luxshare Precision;
EMS (electronics manufacturing services) model: this model originates from consumer electronics. Based on the ODM model, it also provides knowledge and management services, including logistics management, raw materials procurement, and after-sale services. In the automotive electronics market, EMS providers with certain advantages will not be easily replaced once they enter the supply chain of some automotive electronics customer.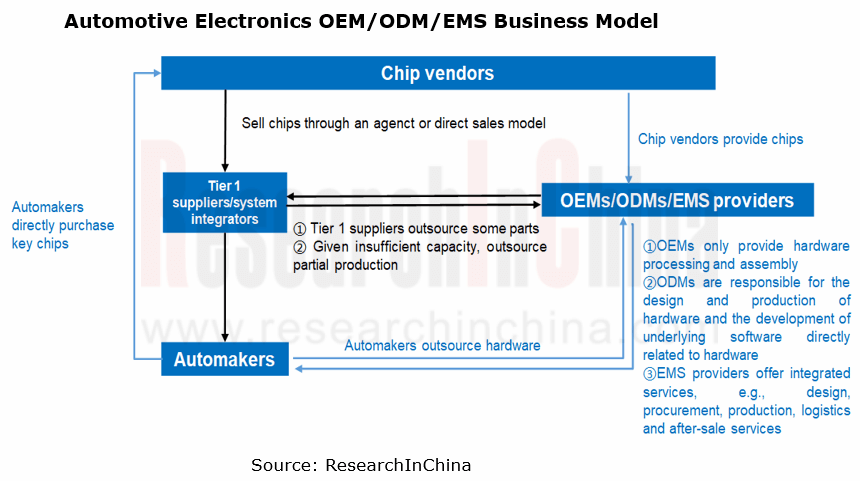 Automotive electronics OEM/ODM/EMS: hardware OEM/ODM/EMS companies are transforming into integrated hardware solution providers, and accelerating in-depth cooperation with OEMs.
 
In the automotive electronics industry, the arena of hardware OEM/ODM/EMS is attracting ever more conventional consumer electronics companies who prefer an entry from domain controllers, automotive communication modules, LiDAR, AR-HUD and other high-value-added intelligent products. For example, suppliers of Apple such as Quanta Computer, Wistron, Pegatron and Luxshare Precision race to embark on automotive electronics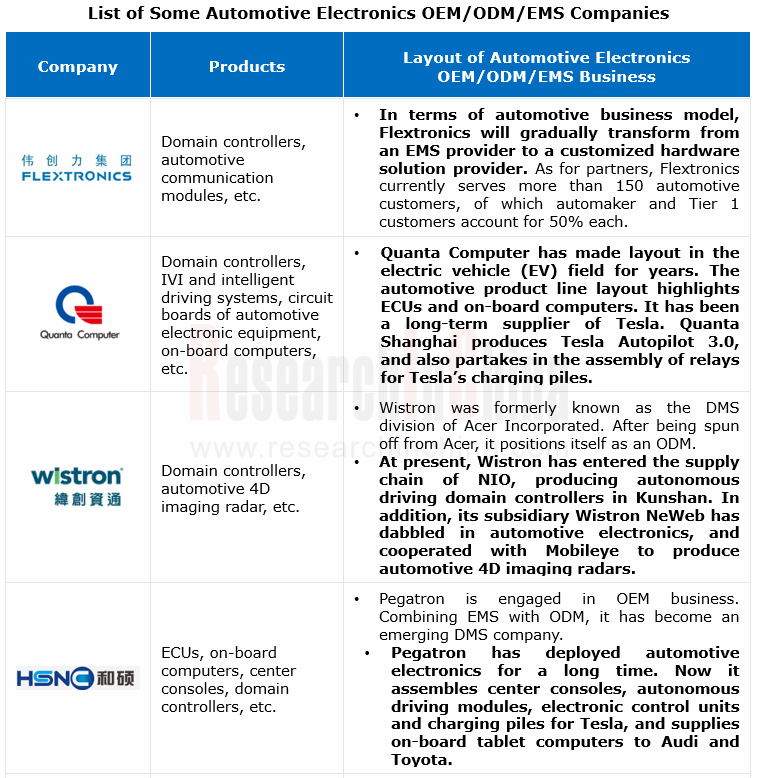 The OEM+EMS cooperation model is changing. Most obviously, ever more automakers become more willing to independently develop core products and technologies, especially high-added-value, highly differentiated know-how products. In this model, auto brands can concentrate more on personalized requirements, software and hardware the decoupling, and development of functional applications.
In Chinese market, Flextronics is gradually transforming from an EMS provider to a customized hardware solution provider. Flextronics implements the "Local-to-Local" strategy and the "Assistant Development Manufacturing (ADM)" business model. The ADM model enables automakers to partner with Flextronics at any point in the product life cycle, so as to fill the gap in the product development process. Flextronics' ADM model allows for more flexibility in OEMs' product design.
Based on the ADM model, Flextronics collaborated with Baidu Apollo to mass-produce the Apollo Computing Unit (ACU). In the cooperation, Flextronics provides Baidu with customized product development and design, testing and verification, as well as supply chain integration and optimization, production line design and large-scale manufacturing, according to advices and architecture requirements of Baidu Apollo experts.
Amid the evolution of E/E architectures, the boundary between PCs and vehicles will gradually vanish in the zonal era.
Under the zonal and central computing architecture, a vehicle computing system will be like a PC, that is, all operations will be completed by a CPU, and all applications will be executed by the CPU, perhaps together with a GPU/AI accelerator. Peripherals, interfaces and underlying software system are fixed. The underlying system is almost completely transparent to programmers who only need to develop specific applications. As with today's PCs based on Windows+CPU, software-defined vehicles can be realized.
Against this backdrop, vehicles will embody a high division of labor in the supply chain, just like smartphones and Pcs. Both OEMs and chip vendors will gain a far higher existence and even begin to replace conventional Tier1 suppliers.
As a result, automotive electronics OEMs are building close partnerships with automakers in more aspects:
Flextronics: in April 2023, Flextronics leveraged Horizon Journey 5 and a turnkey solution to produce customized L2+ central domain controllers for Chinese automakers.
In addition, Flextronics has forged a 6-year partnership with Li Auto, covering such products as dome lights, ambient lights, autonomous driving controllers, cockpit entertainment domain, and central computing units.
Foxconn: based on NVIDIA's turnkey solution "Hyperion AV", Foxconn will directly customize domain controllers and central computing platforms for automakers.
Lenovo Group: based on the new-generation NVIDIA DRIVE Thor SoC, Lenovo will independently develop its next-generation automotive domain controller platforms. In the future, the domain controller platform architecture based on DRIVE Thor will become Lenovo's high-end core product line for on-board computing, and related products are expected to be mass-produced in early 2025.
Car making by ODMs: the model of "technical architecture licensing by automakers" and "car making by ODMs" will bring new revolutionary opportunities for the global automotive industry.
In the era of feature phones, mobile phone vendors like Motorola and Nokia all built their own factories. After the advent of smartphones, Apple, Xiaomi and Huawei among others have turned into large ODMs. Phone brands' more concentration on product development and design provides a big boost to the development of mobile phone industry chain. How to transplant the smartphone model into the automotive industry has already been a spotlight.
Automotive OEM/ODM/EMS is nothing new in the automotive industry. Magna, a global OEM giant, has designed and mass-produced about 30 vehicle models for several automakers, including BMW X3, Mercedes-Benz G, and models of Toyota and Jaguar, with the total production higher than 3.7 million units. In China, the collaborations between NIO and JAC, or between Seres and Huawei have seen initial results. Yet there are no successful cases where consumer electronics companies as ODMs spawn vehicles, so that the layout made by bellwethers such as Foxconn and Luxshare Precision has drawn much attention from the market.
Foxconn's CDMS (contract design and manufacturing service) business model is that Foxconn becomes a CDMS provider for the automotive industry. Simply put, Foxconn and Yulon together launched the MIH modular EV platform to provide OEM services for automakers with limited production capacity or outsourcing needs.
Foxconn has introduced a number of electric vehicles based on the MIH platform, such as Model C, Model B and Model E.
Up to now, Foxconn however has mainly served overseas start-ups like Lordstown Motors, Monarch Tractor and INDIEV, without benchmarking customers, mainstream customers or those placing massive orders.
From the perspective of automakers, based on the Sustainable Experience Architecture (SEA) platform, a modular electric vehicle platform Geely invested RMB18 billion to build in 4 years, ZEEKR has achieved phased results. Geely has opened the "SEA" platform license to the global. The architecture will be available to "Jidu Auto" (a brand owned by Geely and Baidu), "IZERA" (a brand in the cooperation between Geely and Poland-based EMP), Waymo One's autonomous fleet (SEA-M Intelligent Platform), and Volvo Polestar 4/5. The ODM model may support the technical architecture export of automakers.
In the age of BEVs and intelligence, the concept of modular platform-based car making plays a more important role. The goal of the cooperation between Geely and Foxconn, or between Chery and Luxshare Precision is to export the "vehicle platform technical architecture".
It is believed that the model of "technical architecture licensing by automakers" and "car making by ODMs" may bring an opportunity to the global automotive industry for a disruption in the next stage.