Telematics service research (III): emerging carmakers work on UI design, interaction, and entertainment ecosystem to improve user cockpit experience.
From January to December 2022, telematics systems were installed in nearly 1.7 million cars of Chinese emerging carmakers, surging by 64.0% on the previous year, with the installation rate up to 96.5%, far higher than Chinese independent brands (70.2%) and joint venture brands (61.3%) in the same period.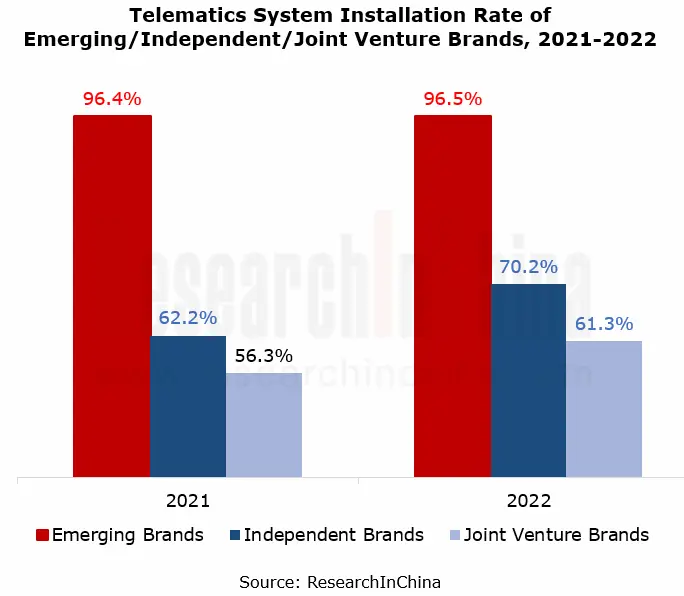 Compared with conventional independent/joint-venture auto brands in China, the telematics systems of emerging carmakers offer more abundant and diversified functions, and remain more distinctive in UI design, cockpit interaction and application ecosystem construction.
1. In terms of UI design, emerging car brands more fit smartphone usage habits, and keep optimizing display effects.
At present, center console displays can be said to be one of the must-have options for automakers to create intelligent cockpits, and the UI design plays a crucial part in center console displays. Factors such as beautiful interface, smooth screen transition, and operation logic combine to determine whether a screen is "good-looking and easy to use" or not. 
 
To create a "good-looking" center console screen, quite a few emerging carmakers have introduced conventional game rendering engines like Unity and Unreal Engine. For example, IM Motors, ZEEKR, Xpeng, NIO, Li Auto and Leadpmotor use Unity rendering engine; HiPhi applies Unreal Engine which at the vehicle side provides such functions as 3D car control, real-time scene rendering for driving assistance, and animation analysis corresponding to vehicle settings, bringing much better center console display effects. In the case of Xpeng G9, the "3D UI human computer interaction system" co-created by Xpeng and Unity Engine provides 3D car control, 3D environment rendering and other functions.

To make the center console screen easier to use, in their IVI UI designs, emerging carmakers introduce phone-side design ideas including minus one screen, desktop widgets, touch gesture of sliding left (or right) on the screen to return to the previous page, one-click cleaning of running applications at the backend, and user-defined desktop layout, allowing users to learn to use as quickly as possible. For example, in the center console UI design of Aion Hyper GT, the suspension control module has three zones (similar to the multi-interface layout on smartphones: left screen, homepage, and right screen): Baby, Car Control, and Widgets, of which:
The Baby Zone displays the voice assistant (wake on touch) and multimedia.
The Car Control Zone is for quick car control and supports user-defined editing of 8 optional modules (e.g., lighting, steering wheel, charging and exterior rearview mirrors), with 20 control items.
The Widgets Zone displays applications like multimedia and map, and supports custom editing of 7 applications such as music, navigation, iQiyi, and game mirroring.
2. In terms of cockpit interaction, emerging car brands offer more advanced voice functions, and begin to introduce multi-modal interaction into their cars.
In October 2020, Xpeng P7 pushed Xmart OS 2.1.0, first proposing the concept of "All-scenario Voice" (including four functions: continuous dialogue, see and speak, semantic interruption, and dual-sound zone locking). At that time, the voice interaction of most conventional auto brands was still at the stage of wake-up + execution of the available. Since then, continuous dialogue, see and speak, and semantic interruption have become hotspots in the development of vehicle voice, and Xpeng has also established its "benchmark" position in cockpit voice interaction.
Entering 2023, "continuous dialogue" and "see and speak" have become the basic voice interaction functions for emerging brands. In this report, the installation rate of continuous dialogue of emerging brands is 100%, and "see and speak", 78.6%. In contrast, the installation rate of continuous dialogue of independent brands is 89.5%, and "see and speak", 42.1% (according to the Chinese Independent OEMs' Telematics System and Entertainment Ecosystem Research Report, 2022); the installation rate of continuous dialogue of joint venture brands is 75%, and "see and speak", 8.3% (according to the Chinese Joint Venture OEMs' Telematics System and Entertainment Ecosystem Research Report, 2022). Emerging brands are very superior in voice interaction.
In December 2022, Xpeng G9 pushed Xmart OS 4.1.0, with the "All-scenario Voice" upgraded to version 2.0, launching four functions: full-time dialogue, multi-person dialogue, extremely fast dialogue, and non-network dialogue. Under "full-time dialogue", users can issue commands in the four sound zones without waking up the function, and for unresponsive commands, they just need to add "Little P" within 5 seconds; the "multi-person dialogue" function allows users in the four sound zones to issue commands simultaneously, and also supports cross-zone semantic continuity. The upgraded Little P is developing into a more natural and anthropomorphic voice assistant.
In terms of multimodal interaction, the voice + gesture has become the integration megatrend. One example is Li Auto L9 that enables the control over functions such as sunshades and windows through the integration and interaction of gesture and voice.
3. In terms of cockpit entertainment, there are more applications, and games become available on several car models.
The IVI applications have developed from the initial phone mirroring to push via OTA updates (an IVI OTA disruption caused by emerging brands), and then to IVI APP Store. Despite an increase in IVI applications, it is far from enough compared with smartphone applications. For instance, AITO, supported by Huawei, announced the "Super Desktop", aiming to make applications on IVI systems as abundant as on smartphones.
In November 2022, AITO M7 introduced the "Super Desktop" for the first time via an OTA update. This function supports seamless integration of Huawei HarmonyOS-based smartphone applications into the car, enabling integration and sharing between the smartphone ecosystem and the IVI ecosystem, and also allows hardware of smartphone and IVI system to call each other. This function makes millions of smartphone applications available on IVI systems anytime and anywhere.
f IVI applications are categorized, in the industrial "involution" emerging carmakers have already turned music, video and navigation applications a standard configuration. According to the layout of emerging carmakers in 2023, car games are becoming the next wind vane for IVI applications.
Among the brands in this report, Li Auto, NIO, Rising Auto and ZEEKR equip their cars with relevant applications. For example, Li Auto L Series models support connection to the Nintendo Switch game console through the Type-C interface; the N-box enhanced entertainment console jointly developed by Nreal and NIO for new NIO ES8 supports simultaneous connection of 4 pairs of NIO Air Glasses devices, equivalent to a maximum display of 201 inches, and can be used to meet the needs of watching movies and gaming; Rising Auto, ZEEKR, Aion Hyper, and Neta Auto integrate the Migu Quick Game platform into their IVI systems.