The market demand for in-vehicle payment is rising.
In-vehicle payment refers to the function allowing for payment through in-vehicle communication (e.g., SIM card and WiFi) and IVI system. In-vehicle payment enables car owners to pay for services such as parking, refueling, food ordering and shopping without getting off the car, bringing far more convenient and better experience to users.
According to the survey by ResearchInChina, there are a relatively small number of people using in-car payment at this stage, making up only 17.8% of the total samples. Yet users' willingness to use this function is very high. 72.7% of the consumers who have not used in-car payment yet, or 59.8% of the total samples say they are "willing to try in-car payment".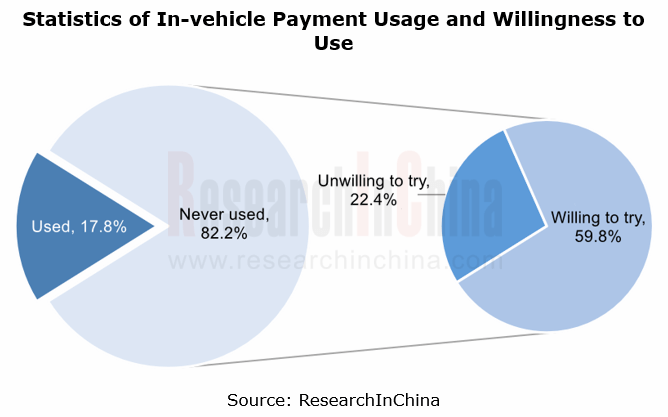 At present, users use in-car payment in such scenarios as parking, highway pass, refueling/charging, and purchasing IVI traffic and APP membership. Of the users who have used in-car payment:
Up to 78.9% use in-car payment for parking;
42.1% use in-car payment for highway tolls;
In-vehicle payment is also often used to pay for refueling/charging fees (31.6%), IVI traffic and APP membership (31.6%), feature subscription (21.1%), car maintenance/repair/wash (15.8%), and car insurance (10.5%);
Fewer users use this function in the scenarios of online food ordering and dining (5.3%) and travel (5.3%).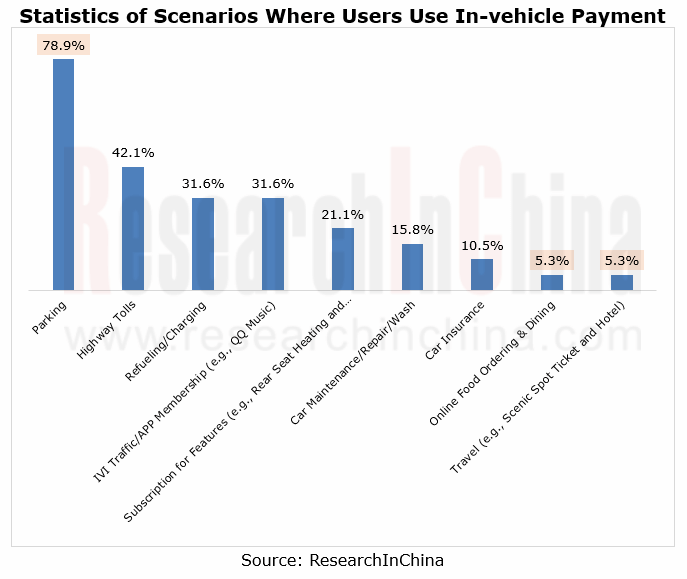 The in-vehicle payment industry chain is taking shape.
In terms of supply chain, in-vehicle payment involves two major segments: in-vehicle payment device and in-vehicle payment platform.
In-vehicle payment devices are led by communication devices (SIM card, communication module and T-Box), interaction devices (touch/voice/ face/gesture/fingerprint interaction), and authentication devices (security chip); in-vehicle payment platforms are primarily cloud platform, payment platform, IVI system, ecosystem service platform, ecosystem service provider, and OEM.
As companies in each industry chain segment worked to make layout in recent years, the in-vehicle payment market has kept growing, with the following two major features.
1. In-vehicle payment is available to more scenarios.
Foreign automakers including BMW, Mercedes-Benz, Honda and Hyundai, and Chinese automakers such as Great Wall Motor, Xpeng Motors, Geely, Chery and AITO have launched their in-car payment function. They have widely deployed this function in parking, refueling/charging and food ordering scenarios, and are also applying it on a small scale in car wash/maintenance/repair services, feature subscription, ticket booking and other scenarios.
For example, in October 2022, BMW added the BMW ConnectedDrive Store to its IVI system via OTA updates. It enables in-car payment for subscriptions, and 13 features such as front seat heating, steering wheel heating and Carplay through the IVI system.
2. Multimodal interaction is being added to in-vehicle payment.
At present, the most common in-car payment is scan to pay and password-free payment. As in-car multimodal interaction technology improves, face recognition, fingerprint recognition and voice recognition are becoming the new in-car payment interaction and authentication methods.
For example, Mercedes-Benz has added fingerprint recognition and authentication to its latest in-car payment system PAY+; Chery EXEED TX/TXL supports face verification payment, a function allowing users to pay for parking fees or shopping through face recognition. The addition of multimodal interaction makes in-vehicle payment more secure and convenient.
3. The ecosystem is a key factor affecting in-car payment.
In the mobile payment system, millions of iOS and Android developers have developed various applications and built very rich application ecosystems, meeting living, work and entertainment needs of consumers and making smartphones an indispensable terminal in users' life.
In the in-car payment system, financial institutions like China UnionPay and VISA have developed a series of in-car payment systems; Alipay, Banma Zhixing and Huawei among others have built a variety of vehicle ecosystem platforms and launched a range of in-car services covering parking, refueling, travel, shopping and other scenarios.
 
Compared with mobile payment, the in-vehicle payment ecosystem is still weak at this stage, only meeting the payment needs in specific scenarios. With the development of intelligent cockpit and high-level autonomous driving, drivers will be freed from driving tasks in specific scenarios and pay more attention to other in-car needs. At this time, creating an in-car living space and building a closed-loop ecosystem with payment as the entrance will become a big demand.