Despite the chip shortage and the sluggish economy, Bosch's sales from all business divisions bucked the trend in 2022. Wherein, the Mobility Solutions, still the company's biggest division, sold EUR52.6 billion, jumping by 16% (12% adjusted for exchange-rate effects) on the previous year.
       
In the first quarter of 2023, Mobility Solutions saw its sales rise by 3.5% from the prior-year period, and performed very well in North America where it recorded an 18% growth; in Europe as well, the company enjoyed a 7.7% increase.
       
Adjust the product structure and organizational structure in due time, and lay out "software-defined vehicles"
       
Bosch's outstanding performance is owned to its timely strategy adjustment. In 2019, Bosch's Car Multimedia Division cut off conventional products such as T-boxes, head units and clusters and turned to intelligent cockpits. In July 2019, Bosch Digital Cabin (Shanghai) R&D Center under Bosch Car Multimedia was put into use in Zhangjiang, Pudong District. This facility concentrates on R&D of intelligent cockpit products.   
       
To follow the development trend for electrification, connectivity, intelligence and sharing, in early 2021 Bosch reshaped the organizational structure of its automotive business and set up XC Division, its brand-new division with businesses covering intelligent driving, intelligent cockpits and intelligent connectivity. Headquartered in Suzhou with R&D centers in Suzhou and Zhangjiang of Shanghai (Bosch Digital Cabin (Shanghai) R&D Center), XC China puts focus on autonomous driving, infotainment and body intelligent control domains.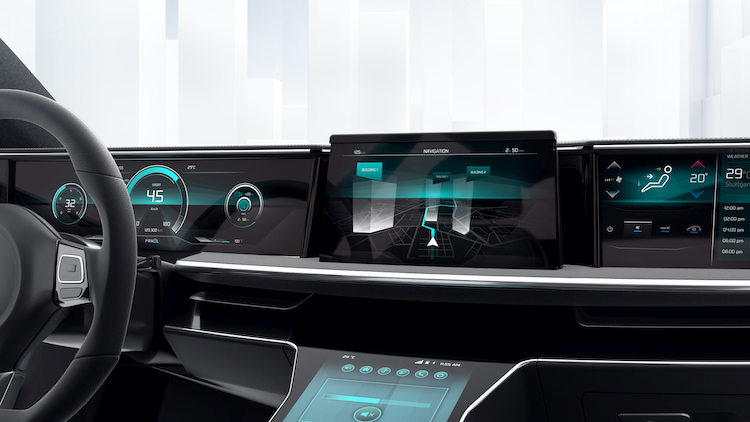 In May 2023, Bosch announced another realignment of its global Mobility business, which will be known as Bosch Mobility. Bosch Mobility will operate its business independently as a subsidiary of Bosch Group. This adjustment further enriches the functions of Bosch's XC Division established in 2021. XC Division will develop and provide solutions from automated parking to autonomous driving. 
       
It is reported that more than 50% of R&D personnel in Bosch Mobility are engaged in software development. In the drastic reform, Bosch places an unprecedented premium on "software-defined vehicles" so that it not only speeds up the development of software, but also enables software and hardware coupling in development.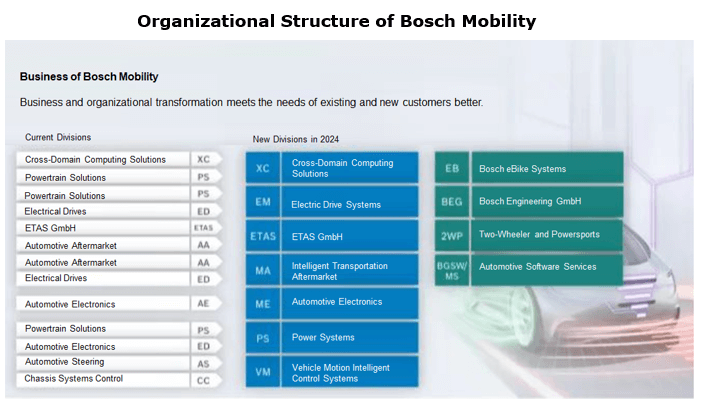 Continuous efforts on cockpit domain controllers and cockpit-driving integrated solutions

Cockpit domain controllers

With the higher functional requirements of users, ever more ECUs are used in the automotive entertainment domain. The integration of multiple ECUs into a cockpit domain controller helps to reduce vehicle cost, wirings and weight, simplify software development and shorten vehicle integration verification cycle, so as to achieve better OTA capabilities.
In 2020, Bosch launched Autosee 2.0, a Qualcomm 8155-based cockpit domain controller platform which integrates multiple operating systems and can simultaneously support multiple displays including cluster, center console, copilot seat entertainment, HUD, air conditioner and rear row screens.
This platform also integrates driver and occupant monitoring system (DOMS), around view monitor (AVM), face recognition (Face ID), multi-microphone input, active noise reduction and other functions. This 8155-based cockpit domain controller platform has been ordered by several automakers like Great Wall Motor, GAC Trumpchi, GAC Aion, Chery, Geely, Changan and Cadillac. 
At the Auto Shanghai in April, 2023, Bosch and Autolink World jointly released an intelligent cockpit solution based on Qualcomm 8295 with 5nm process. It supports the cross-domain function of "cockpit-parking integration".
Cockpit-driving integration
       
Bosch's cockpit-driving integration technology development path spans through Cockpit-parking Integration 1.0, Cockpit-parking Integration 2.0, Cockpit-driving Integration 1.0 and Central Computer.
       
Bosch unveiled its cockpit-parking integrated demo solution in November 2022. This solution is a combination of a surround view camera, 12 ultrasonic sensors, SOC integrated with parking algorithms, and MCU for functional safety control, thus enabling cockpit-parking integration. According to its plan, Bosch will launch the Cockpit-parking Integration 1.0 (cockpit + APA + RPA) this year and Cockpit-parking Integration 2.0 next year. 
Erase uncertainties in AI with SOTIF
       
Bosch believes that the challenge to cockpit-driving integration lies in software platforms for software and hardware decoupling, chip decoupling algorithms and AI security.
       
Given diversified cockpit chips and uncertain chip supply, general software platforms need to be used to deal with all uncertainties. This is the benefit offered by software and hardware decoupling. Bosch has achieved chip algorithm decoupling in the parking field, and is working on the decoupling of chips and cockpit-driving integration algorithms. 
       
In general, ASIL can't evaluate the reliability of AI technology due to the uncertainties of AI technology. Bosch is therefore trying to solve this problem by introducing the safety of the intended functionality (SOTIF) solutions, for example, assess the security of the trained algorithms according to the coverage of training datasets.
---
Bosch's Intelligent Cockpit Business Analysis Report, 2022-2023