From the layout of automotive software products and solutions, it can be seen that intelligent vehicle software business models include IP, solutions and technical services, which are mainly charged in the forms of non-recurring engineering (NRE), software licensing and royalty.
In terms of business forms, software providers are now engaged in custom software development and design, technical services, software licensing/authorization and system integration. Business forms differ slightly in charging modes.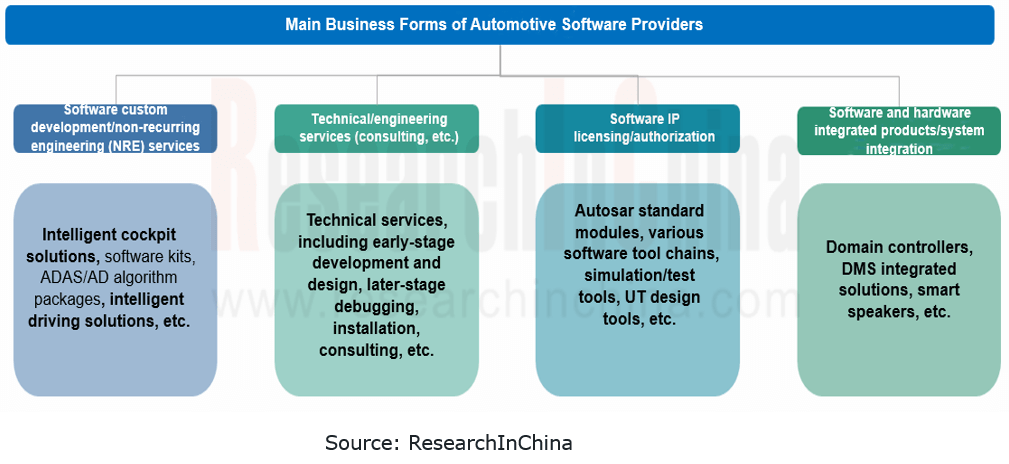 In the megatrend for software-defined vehicles, automotive electronic/electrical architecture has evolved from the distributed to the centralized. Automakers have intention of full-stack self-development and evolution. However, due to multiple factors such as software technology teams, only a few emerging carmakers or well-funded automakers have made it. Most of the rest still make layout by cooperating with suppliers. The model of "independent R&D (independent and controllable) + in-depth cooperation with suppliers" has now become the main way of making software layout for automakers.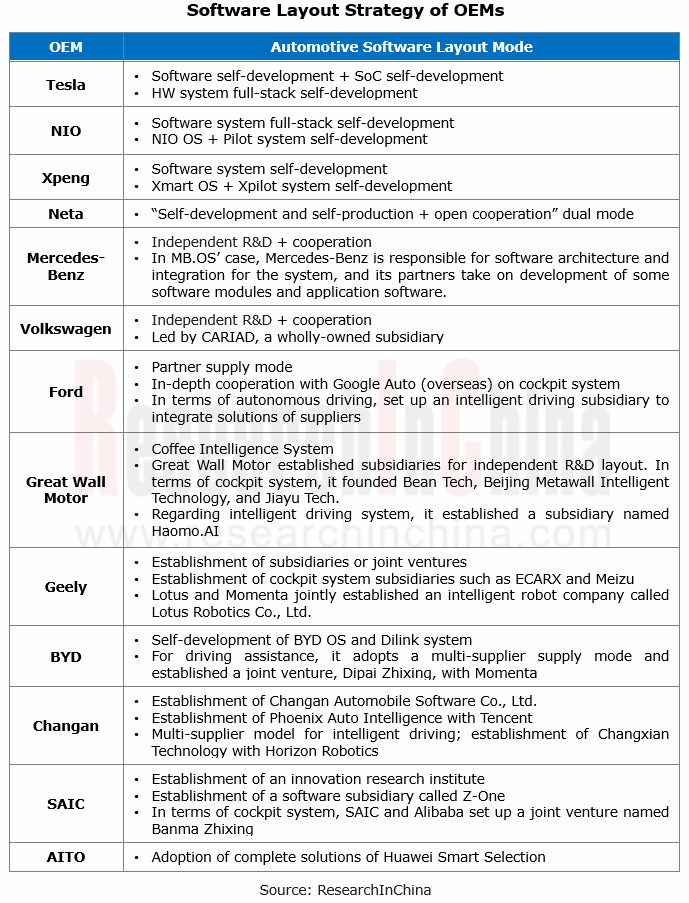 In the trend for software and hardware decoupling, customers are no longer satisfied with purchasing sensors, software and hardware products provided by suppliers, but tend to choose software or hardware solutions that are compatible with products from competitors.
To follow this trend, providers work to make layout. For example, in August 2023 Bosch introduced video-perception software as a standalone product, which can be used on diverse SoCs (systems on chips). This gives automakers maximum flexibility. The image data captured by several sensors, such as the new Bosch camera heads, are processed by Bosch software and made available for advanced driver assistance functions relating to driving and parking.
Bosch's software and hardware separation solution can provide customers with diversified solutions in various fields, including separate hardware, software or software and hardware integrated system. It also supports customers to build application layers on this basis and offers a variety of combination solutions.
In the trend of EEA, OEMs speed up vehicle OS layout, the solutions of software suppliers become more systematic, and multi-party cooperation accelerates mass production.
In the context of cross-domain fusion, the intelligent vehicle industry requires a vehicle OS to simultaneously support cockpit, intelligent driving, vehicle control and other systems. All vehicle functional domains however have not yet been fully connected, and globally there is no intelligent vehicle operating system that can be directly applied for a long time.
In the past several years, many automakers such as Toyota, Volkswagen, Mercedes-Benz, NIO, and Hongqi have enhanced their deployment in vehicle operating systems. Based on their technology R&D strength, product development requirements and relationships with suppliers, OEMs deploy vehicle OS in three modes: independent R&D, independent R&D + in-depth R&D cooperation, and direct outsourcing. At present, the vehicle OS layout mode is moving from independent R&D to independent R&D + in-depth R&D cooperation.
Given vehicle intelligence and the need for new automotive business models, in 2019 Volkswagen announced VW.OS, a vehicle operating system which was independently developed by its software company CARIAD. However, the progress has been slow due to multiple factors.
In the past two years, Volkswagen has been more open to cooperation, and completely changed the direction of "fully independent R&D". Outside the Chinese market, Volkswagen vigorously enhances cooperation on software and autonomous driving, and has partnered with Qualcomm, Bosch, Mobileye, Apple, Google and so on.
In Chinese market, Volkswagen has established joint ventures with Horizon Robotics and ThunderSoft to produce exclusive software products for China. In May 2023, CARIAD's supervisory board approved the company's comprehensive adjustment plan. In addition to large-scale personnel adjustment, it also highlights reforms, for example, closer technical cooperation with powerful technology companies, and new leadership and team models.
In February 2023, Mercedes-Benz detailed its plans as the architect of its own operating system MB.OS. Mercedes-Benz plans to adopt a layout mode of "independent R&D + R&D cooperation with suppliers". It has three software development modes for MB.OS. In the figure below, the gray part indicates Mercedes-Benz's in-house development of interior and data security software; the blue part means Mercedes-Benz's development of AUTOSAR with its supplier Vector; the purple part refers to the computer underlying software and system for integration with third-party applications. MB.OS was expected to be officially launched on market in 2025.
In September 2023, NIO released SkyOS, a full-stack self-developed operating system for intelligent electric vehicles. As the underlying operating system, SkyOS establishes an all-round, three-dimensional technology system for vehicle R&D, allowing various devices to be organically integrated for efficient cooperation. SkyOS boasts a "1+4+N" technology cluster, covering multiple fields from vehicle control, intelligent driving and cockpit to mobile Internet. It has become a leading intelligent digital technology base in all aspects.
Facing the lucrative vehicle OS market, software providers have aggressively changed their strategies and introduced corresponding development products and solutions, such as ArcherMind's Fusion OS, KOTEI's KCar-OS and ETAS's end-to-end OS. To meet the customization demand from OEMs, software development teams of suppliers are ideal partners for customers, as they can cooperate with customers in research and development, and help customers develop products quickly to shorten the time to market.
In terms of business model, in the short term, in addition to licensing fees charged for software tools, vehicle OS will still mainly charge custom development fees. In the future, the profitability of OEMs will shift from only vehicle sales to application software and service upgrades. The business model between OEMs and vehicle OS providers is not just a one-off deal in currant stage, and charging models such as SaaS, mass production sharing or open source subscription services may emerge.
The pace of vehicle application and mass production of GPT quickens, especially in the human-computer interaction field.
Since its launch in November 2022, Chat GPT has gone viral around the world. Its excellent human-like dialogue learning capability and highly intelligent tool attributes cause a disruption to the information society. Because foundation models can be quickly integrated with the original knowledge system of the automotive industry to build more scenario-based modules, they have cutting-edge technical advantages in the fields of intelligent driving and intelligent cockpit.

The introduction of large AI models into vehicles has become a main trend this year. OEMs try hard to build large AI models in three ways:
First, they start from the underlying layer, and develop and build by themselves;
Second, they build the application layer on the underlying layer built by platform-level companies;
Third, they directly build in some foundation model.
Li Auto's independent R&D model: At the 2023 Li Auto Family Technology Day Conference, Li Auto released Mind GPT, its self-developed model which not only controls the car, but also performs functions such as storytelling, children's encyclopedia creation, trip planning, intelligent diagnosis, and complex task understanding. In the process of foundation model training, Li Auto finally chose to fully self-develop foundation models after considering solutions of many suppliers.
The spatial algorithm team of Li Auto builds a data platform and training platform based on foundation model training, and uses a "controller unit model" to connect external capabilities to make up for the model's deficiencies in some aspects. Starting from the bottom layer, the team builds up the whole structure of Mind GPT, applies the technology and capabilities to actual scenarios, and makes differentiated innovations through iteration, in a bid to continuously improve the product strength and competitiveness of Mind GPT.
Mercedes-Benz adopts ChatGPT direct supply mode: In June 2023, Mercedes-Benz launched a three-month ChatGPT test program in the United States. Customers can participate via the Mercedes me App or directly from the vehicle using the voice command "Hey Mercedes, I want to join the beta program", and then the MBUX Voice Assistant's Hey Mercedes will automatically connect to ChatGPT. Mercedes-Benz is integrating ChatGPT through Azure OpenAI Service, leveraging the enterprise-grade capabilities of Microsoft's cloud and AI platform. With ChatGPT in preview in Azure OpenAI Service, developers can integrate custom AI-powered experiences directly into their own applications.
Via Microsoft's Azure OpenAI Service customers can begin using ChatGPT today. It is priced at USD0.002/1,000 tokens and billing for all ChatGPT usage begins March 13, 2023.
iFlytek Spark landed on EXEED STERRA ES, involving a joint development and custom model: In August 2023, Chery released STERRA ES, the first model equipped with iFlytek Spark, a cognitive foundation model of iFlytek. Based on Chery's "LION AI" foundation model platform and iFlytek Spark, EXEED STERRA ES brings better cockpit interaction capabilities.
Chery and iFlytek give full play to the key benefits of the foundation model in an AI voice assistant through cross-border integration and deep link of technologies. Driven by 6 major technologies, including cross-business scenarios, deep semantic understanding, multi-round interaction, learning evolution, real-time update & loading and multiple styles, the foundation model solves the three major enduring problems for users in current human-computer interaction, namely, single conversation style, separation of chats and skills, and lack of cross-scenario business, and finally realizes five core application scenarios, becoming a vehicle function instructor, an empathic partner, a knowledge encyclopedia, a travel manager and a health consultant. The two parties cooperate to deeply integrate the functions of the foundation model, jointly develop and customize it, and quickly install it on vehicles.
Moreover as the application of large AI models in vehicles speeds up, suppliers also create the foundation model pre-integrated supply mode. For example, Continental announced a partnership with Google Cloud during its press conference at the IAA MOBILITY 2023. Together, the two companies are equipping cars with generative Artificial Intelligence (AI), and they expect a fast time to market – from order receipt to production and delivery in 18 months.