According to the data from ResearchInChina, during 2022-2023, the installations of NVS (night vision system) in new passenger cars in China went up at first and then down. From January to July 2022, the installations of NVS in new passenger cars in China was 13,300 sets, a like-on-like spurt of 141.9%; the full-year installations in 2022 reached up to 24,400 sets, jumping by 37.0% year on year; in the first seven months of 2023, the installations stood at 13,400 sets, up by 0.7% from the prior-year period, and the installation rate was 0.12%, on a par with 2022.
Automotive infrared night vision systems can be divided into active and passive types. Active infrared night vision is also called near-infrared night vision; passive infrared night vision falls into far-infrared night vision and low-light-level night vision.
Near-infrared night vision uses a powerful infrared emitter to illuminate the object during operation and images the object with the infrared rays reflected back from the object; 
Low-light-level night vision amplifies a small amount of visible light received, and finally collects the image and projects it onto the corresponding display;
Far-infrared night vision mainly uses the infrared radiation emitted by the object itself for imaging. It is also called thermal imaging system, enabled by a thermal imager.
Infrared detector, an important upstream product in the industry chain, heads in the direction of small pixel size and low cost.
An infrared thermal imager is a product used to detect the infrared radiation from an object, and convert the temperature profile of the object into a video image after photoelectric conversion, electric signal processing and digital image processing.
The core components of a thermal imager include lens, detector, following circuit and image processing software. Wherein, the infrared detector, also known as infrared focal plane detector, is an important part of a far-infrared night vision system, and is heading in the direction of small pixel size and low cost.
The pixel size of uncooled infrared chips in the industry has been reduced from the initial 35μm to the current mainstream 12μm, and even 10μm and 8μm products have been unveiled or developed. The pixel size tends to be smaller;
The advantage of small pixel size is that the smaller pixel size allows for chip size reduction, lowers chip cost, and further meets the requirements for miniaturization and integration of thermal imaging modules.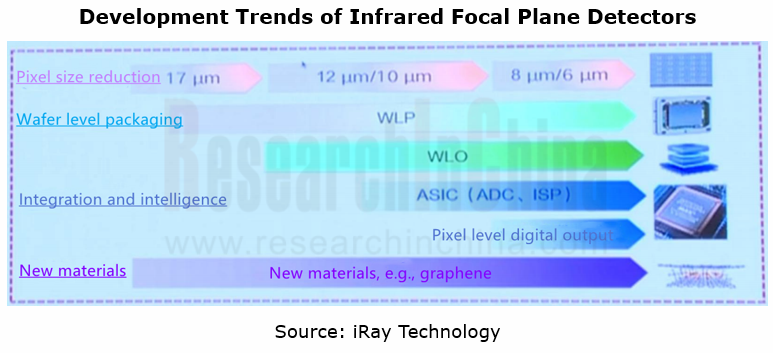 In terms of infrared technology, Raytron Technology, iRay Technology's parent company, has expanded its 8μm product family, and has completed development of the prototype samples of the 1280×1024 new products; it has laid out the 10μm product family, and has trail-produced the 640×512 new products in small volume; in April 2023, it displayed IR-Pilot 1920X, its first automotive infrared thermal imager that packs an 8μm 1920×1080 infrared thermal imaging detector chip; in September 2023, it introduced an 8μm VGA (640×512) infrared thermal imaging detector chip.
With these efforts, it promotes the development of global small-pixel infrared thermal imaging optics and image algorithms, facilitates the wide adoption of ultra-small pixel infrared focal plane detector chips in many new fields, and further cuts down the cost of automotive night vision systems.
Xuanyuan iDRIVE's infrared detector application history and planning: used imported 25μm detectors in 2015; used the self-developed 25μm detector in ceramic packaging in 2018, with little improvement in resolution; used 12μm detectors in wafer-level packaging in 2021, with the resolution increased to 640×512; plan to use 10μm wafer PLCC packaging in 2024, with two resolutions: VGA and SXGA. It shows that the size of detectors is getting smaller, the process is getting more mature, the resolution is getting higher and the cost is getting lower.
OEMs begin to integrate ADAS with infrared night vision technology.
Automotive night vision has begun to be integrated with ADAS. GAC Aion has adopted infrared sensing technology in its ADAS for the first time. The ADiGO Intelligent Driving System that integrates intelligent driving infrared sensing technology strengthens video capture and recognition capabilities in dark night, haze, and heavy rain environments.
Combined with the existing LiDAR, radar and visible light camera, this system acts as an active driving assistance safety strategy that integrates night vision/thermal imaging. The integration of night vision with ADAS allows thermal imaging to output video signals that have clear outlines and are easy to recognize, and helps to transmit the data to ADAS as a supplement to the uploaded perception data of other environments. The development history is as follows: 
In March 2022, GAC Aion announced that ADiGO will be equipped with intelligent infrared sensing technology;
In September 2022, Aion notified Xuanyuan iDRIVE of developing and  trial-producing components and undertaking the task of manufacturing night vision cameras;
In July 2023, Aion Hyper GT, an ADAS-enabled production model integrated with infrared night vision technology, was available on market.
The subsequent extended applications of infrared night vision in ADAS also include intersection perception, multi-sensor data fusion, BEV spatial feature construction, image feature fusion perception, perceptual positioning and SLAM, stereo infrared, etc.
As concerns L4 autonomous driving, from Robotaxi nighttime road tests of Didi, AutoX, and WeRide, to DeepRoute.ai's announcement of entering nighttime intra-city freight, it can be seen that there is great demand for night driving in the autonomous driving field. And driving safety at night makes infrared sensors an indispensable part.
Starting from January 3, 2023, Didi has increased its Robotaxi service hour to 24 hours. Didi's autonomous vehicles with the latest software and hardware are equipped with a variety of sensors including visible light, LiDAR and infrared thermal imaging, which can recognize traffic lights and traffic signs up to 300 meters away, and enable stable recognition in backlight and night scenarios and also accurate recognition of minor obstacles.