Cockpit SoC research in 2023: Can X86 solutions returning to cockpit SoC challenge the "ARM+Google" mobile solution?
As a core selling point of smart cars, high-performance SoC products have become a focus in the next-generation cockpit layout.
According to the statistics, in 2022 smart cars in China were installed with 7.005 million cockpit SoCs, a year-on-year upsurge of 44.9%, of which Qualcomm's cockpit SoCs boasted the highest installation, up to 3.039 million units, or 43.4% of the total.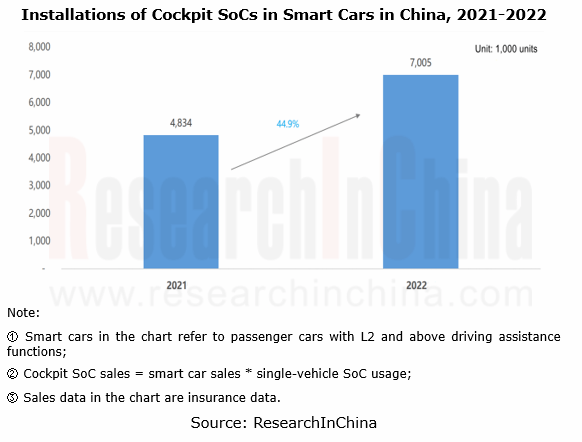 In 2022, described as the first year in which Qualcomm SA8155P started production and was mounted on cars, both emerging carmakers (NIO, Xpeng, Neta, Weltmeister, etc.) and conventional automakers (BMW, Ford China, GM, Great Wall, GAC, Geely, Chery, etc.) spawned car models with Qualcomm 8155 chips. Even it was proposed that the chips of NIO, ZEEKR 001, Ford Mach-E, Voyah FREE and other models were upgraded to Qualcomm 8155 for old customers to make them more satisfied.
Qualcomm's next-generation cockpit SoC SA8295P is also production-ready. At present, multiple suppliers such as Bosch, Desay SV, Thundersoft and PATEO have begun to create cockpit solutions based on Qualcomm 8295 so as to answer the needs of the fast-growing smart car market; Jidu's first model carrying this chip was announced to be mass-produced in 2023. It is known that some models of Great Wall, GAC and Xiaomi among others will also be equipped with this chip.
There is no doubt that Qualcomm has made a great success in the cockpit field, and its chips have even become a selling point for smart cars. The blue ocean market cockpit SoC becomes another arena following mobile phone SoC, having attracted quite a few chip vendors to set foot in. As well as Qualcomm, players also include international giants like MediaTek, Samsung and Nvidia, Chinese startups such as SemiDrive and SiEngine, and non-automotive chip vendor AMD.
Among them, SemiDrive's X9 Series is one of the cockpit products making the fastest progress in mass production in China. In July 2022, SAIC Roewe's 3rd-generation Roewe RX5/Super Hybrid eRX5 equipped with X9 Series intelligent cockpit chips started pre-sale. In addition, the X9-based models of automakers like Chery and Changan Auto also have been mass-produced and launched on market. At present, SemiDrive X9 has been designated for dozens of blockbuster models, fully covering local and joint venture auto brands, emerging carmakers and world-renowned automakers.
In recent two years, AMD has begun to make layout in the intelligent cockpit field, challenging Qualcomm's dominance. Tesla is the first to apply AMD chips to its cockpit systems, and in the future the full range of its models will use AMD's chips. In August 2022, AMD and ECARX forged a strategic partnership in which ECARX will assist AMD in global promotion. In late 2022, GAC also announced the ADIGO Park Metaverse cockpit based on AMD's chip.
At the CES 2023, Smart showcased its newest intelligent cockpit computing platform co-built with ECARX. This platform utilizes AMD Ryzen? Embedded V2000 Processors and AMD Radeon? RX 6000 Series GPUs, delivering CPU compute up to 400K DMIPS, four times higher than Qualcomm 8155, the current mainstream cockpit chip on market. The digital cockpit will offer advanced computing power and stunning game console-grade visual graphic rendering capabilities, including full 3D human-machine interaction interface, ultra-high definition 4K multiple displays and 3A high-end gaming entertainment. The models based on this computing platform are scheduled to be mass-produced and launched on market in 2024.
As cars become more intelligent, intelligent cockpits provide ever more configurations. In particular, the production and installation of emerging technologies such as 3D engine, vehicle games, XR/VR, and Metaverse enable smooth cockpits. User experience requiring high-performance cockpit SoCs further drives up the demand for high-performance, high-computing power products like Qualcomm 8295 and AMD's chips, which have become a focus of major suppliers and OEMs in their next-generation cockpit layout.
The pace of replacing foreign cockpit SoCs with the homemade quickens, which are expected to be produced in quantities and mounted on cars in 2023.
Facing the huge intelligent cockpit SoC market, the new products of China's local cockpit chip vendors have offered significant improvements in recent two years. An array of homegrown cockpit SoC vendors have emerged, including Huawei, SemiDrive, Rockchip, AutoChips, SiEngine, UNISOC and Allwinner Technology, and have rolled out a range of intelligent cockpit SoC products for the low-, mid- and high-end markets, aiming at a faster pace of localization.
SemiDrive's X9 Series, an automotive-grade intelligent cockpit chip, integrates high-performance CPU, GPU and AI accelerator, as well as video processor, meeting the rising demand of new-generation automotive electronic cockpit applications for great computing power and abundant multimedia features. X9 enables "one chip supporting ten screens" (generally 3 to 4 chips are required), covering all cockpit functions such as dashboard, center console, electronic rearview mirror, entertainment, DMS, 360° surround view + APA, and speech system.
In addition to cockpit chips, SemiDrive's products also include intelligent driving, central gateways and high-performance MCUs. In 2022, the shipments of SemiDrive's four major product series totaled over one million pieces. As concerns automotive certification, SemiDrive has passed ISO 26262 functional safety production process certification, AEC-Q100 reliability certification, ISO26262 functional safety certification, and the certification by the State Cryptography Administration, becoming China's first automotive chip company to acquire the four certificates.
RK3588M, Rockchip's newest intelligent cockpit flagship chip, adopts 8nm process and integrates the octa-core CPU architecture composed of quad-core A76 and quad-core A55. It features single-screen 8K display capability, 8K video decoding and encoding, native six-screen display interfaces, 6 TOPS NPU, native 2-channel TypeC, and dual-channel 16-megapixel ISP + at least 12-channel camera, and provides multi-system software including Android, Linux and QNX (Hypervisor), with high computing power, low power consumption, strong multimedia and abundant data interfaces.
Based on ultrahigh performance computing, Rockchip RK3588M enables "one chip supporting multiple screens", that is, a single RK3588M chip can simultaneously drive multiple screens including in-vehicle infotainment system, LCD instrument panel, electronic rearview mirror, and rear headrest screens. In addition, it also supports 360° surround view algorithm, enhanced image display, multiple audio and visual algorithms, to build a reliable intelligent network system, bringing users scientific interaction experience.
In the trend for cockpit and driving integration, cockpit SoC is evolving towards central compute SoC.
As intelligent driving technology matures, intelligent cockpits play an ever bigger part, and cockpit and driving integration becomes a development trend. In the fusion of cockpit, intelligent driving, power, chassis, and body domains, the functions of some domains can be integrated into a high-performance computing unit first, then more functional domains can be gradually aggregated, and finally, a central computing model is created.
 
At present, major suppliers such as Bosch, ZF, Desay SV, EnjoyMove Technology, ThunderSoft and SemiDrive have embarked on layout of central computing platform solutions.
Aurora, Desay SV's intelligent computing platform product, integrates the Nvidia Orin, Qualcomm SA8295 and Black Sesame A1000 chip hardware, with total compute up to 2000TOPS. It also packages CPU, GPU and AI hardware by atomic operation for the sharing of compute. As for software, it integrates such core functional domains as intelligent cockpit, intelligent driving, and connected service. 
Bosch's intelligent cockpit and driving fusion hardware solution combines displays (about 7 screens), cameras, microphones, and speakers of the intelligent cockpit on a single SoC, and also integrates radar, camera and other sensors required for intelligent driving. The central computing task is executed by the universal computing module in the domain control unit, and the redundancy design is based on a MCU.
In the long run, with continuous breakthroughs in chip performance and technology, when automotive EE architecture enters the age of "central computing", cockpit and intelligent driving chips are expected to fuse, and eventually form a single high-performance chip-driven model. In current stage, Qualcomm and Nvidia among others have unveiled next-generation central computing SoC products to adapt to the booming smart car market.
At the CES 2023, Qualcomm introduced Snapdragon Ride? Flex SoC, its latest SoC product divided into three levels of Mid, High and Premium, of which the most advanced Ride Flex Premium SoC, coupled with external AI accelerators, delivers the comprehensive AI compute of 2000TOPS. The Flex SoC is engineered to support mixed-criticality workloads across heterogenous compute resources, and based on supercompute SoC and service-oriented architecture (SOA) to enable digital cockpit, driver assistance, autonomous driving and telematics and other functions in distributed domain control architecture.
Moreover Qualcomm also announced that several auto brands have selected Snapdragon Ride Flex for their next-generation platform designs. The first Snapdragon Ride Flex SoC is sampling now for an expected start of production beginning in 2024.
It is conceivable that around 2025, supercompute chips will enter the pre-installation cycle, and the central compute + zonal control architecture will be in the critical phase of starting production on large scale.